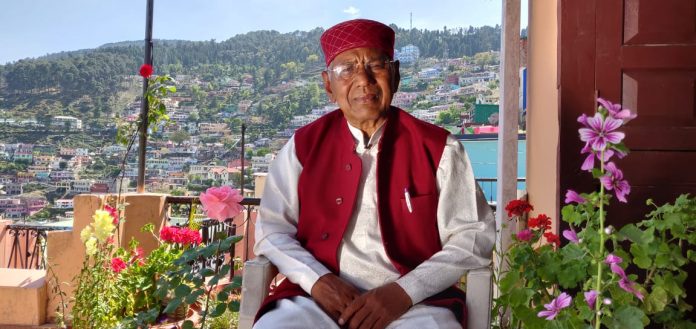 Dateline Pauri: 1:30 min song. Half a crore views with many asking for a longer version. With migrants returning to their home in the hills, some inspired Uttarakhand's iconic singer Narendra Singh Negi to compose his latest song, "Lagi Baduli,' a part of the 'Geet bhi aur Geet ki baat bhi,' web-series on folk songs.
The original 1:30 second song, composed in early 2019 was the theme for Baduli, an annual event put together by the Uttarakhand Association of New Zealand. Speaking to us, Narendra Singh Negi remembers, "I was requested by the organizers to compose a song that would bring together Uttarakhandi's scattered all over New Zealand for the event."
A year later, sitting in his home in Pauri, Narendra Singh Negi reminisces that while going through the comments section of his video, he came across many a fan asking for an extended version of the Lagi Baduli song in particular. It seemed that the song was a tad too short, something more was needed to round it off. That single thought spark set the proverbial ball rolling.
When the Muses returned, the lyrics were written and the result is the new song in its longer version of five minutes. It has found release on YouTube.
"Lagi Baduli' is a song that talks to the soul of those who are far away from their home-state. It exhorts them; pleads with them to return to their childhood haunts, where everyone including the gods and goddesses miss them. It is oozes love and nostalgia for what was good in the past," Narendra Singh Negi signs off!
One of the six songs that is part of his latest release "Geet bhi and Geet ki baat bhi," explains the story or the idea behind each song sung by Narendra Singh Negi. It has left his followers breathless as they gasp for more.
To watch the video, click here:
https://www.youtube.com/watch?v=YDzplL53toQ&feature=youtu.be&fbclid=IwAR3f7IWuOfLlgyM078UrTME9jX30yXfJ3868mLqY9JSbeSRt6zrmf9gpS2k