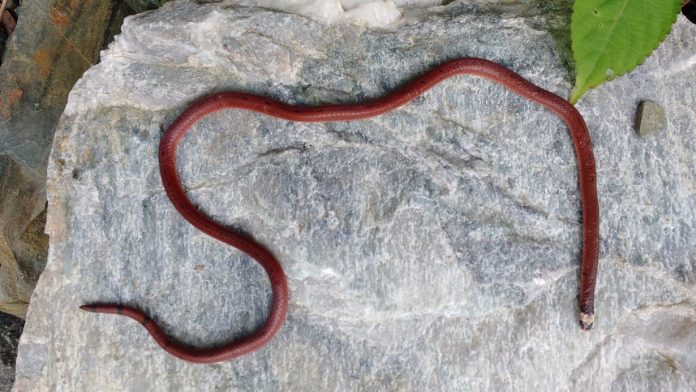 Dateline Mussoorie: In the recent edition of the Journal of Threatened Taxa, a first of its kind, the rare species of the Black Bellied Coral Snake (Sinomicrurus nigriventer) was sighted in the Benog Wildlife Sanctuary, Mussoorie in early September, last year.
Two research scholars from the Wildlife Institute of India, Dehradun, Vartika Choudhary and Sipu Kumar, on their way to Bhadraj temple, which falls within the Mussoorie Forest Division, first sighted this rarest of rare snake as it was crossing a hiking trail.
Considered as the smallest among its venomous cousins such as Cobra, King Cobra and Krait, this Coral Snake,  the Black bellied Coral snake grows to less than a meter in length  and is rarely found close to human habitation.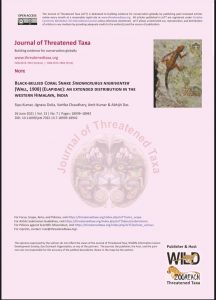 "This species of snake has been registered from two locations in the hill state: First one, unfortunately a dead one was found in Nainital at around 1100 mtrs by Jignasu Dolia and this live Coral Snake was sighted in September 2020 on the way to Bhadraj temple at 1900 mtrs," Abhijit Das who works as a faculty at Wildlife Institute of India, tells us.
Biologists further believe that there are 107 species of Coral snakes found globally out of which seven species are found in India. These latest sightings have been reported between an elevation of around 800 mtrs to 1900 mtrs.
Abhijit Das, who has been keeping his eyes on frogs, snakes and lizards of Uttarakhand and beyond, shares his insight with Newspost, "Uttarakhand is home to 36 species of snakes of which this is its newest addition. Recently there are records of few rare species such as Indian Egg Eating Snake, Coral Kukri Snake and Mackinnon's Wolf Snake being sighted in Uttarakhand as well." He further adds, "Being highly venomous it also means that the Black Bellied Coral Snake is also "important in the world of medicine."