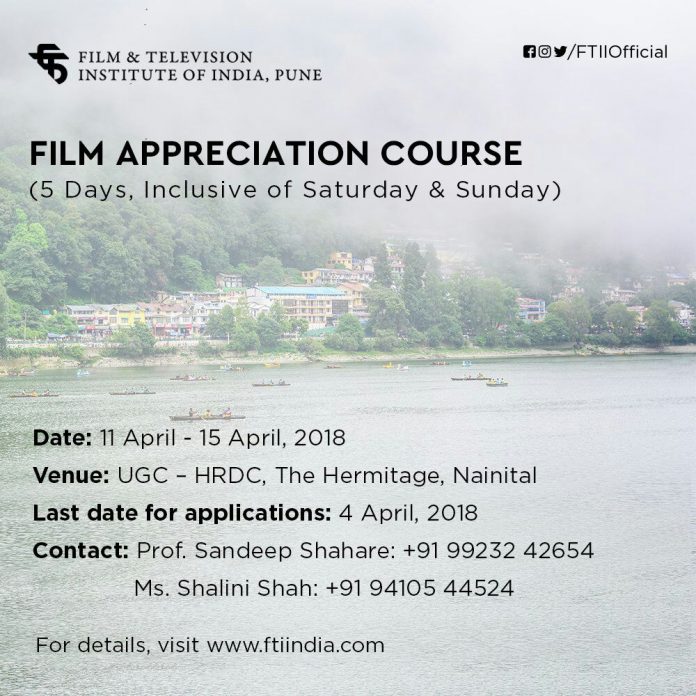 In keeping with its mission to spread film literacy and promote better understanding of cinema, Film and Television Institute of India, Pune is conducting a 5-day Film Appreciation course in Nainital,Uttarakhand.
The Course is being held in association with Nainital-based Himalayan Society for Art, Culture, Education, Environment and Film Development (HIMACEEF) promoted by film makers and academicians Rajesh Shah (Cinematography,1992,FTII) and Shalini Shah.
Beginning April 11th, participants will be presented several streams of ideas about Cinema across 5 days. The main elements will be, basic concepts about Film medium, selected topics in the history of cinema, how films are made, kinds of films, experimental, animation etc, selected topics in Film styles, short film analysis and general screenings.
Subhamoy Sengupta and Bela Negi, both FTII alumnus, are the Course Directors.
"Film Appreciation course is always a challenge of sorts. The participants come from various disciplines, varied age groups and different professional interests. What's common though is love for cinema," Bhupendra Kainthola, Director FTII said.
Subhamoy Sengupta says,"The important objective of the Course is the presentation of a consistent framework of thinking about Cinema. Although this is not a film making course and there won't be practical exercises, some fundamental aesthetic issues of film practice like direction, editing, screen writing will be touched upon to facilitate better understanding of film language."
FTII has so far conducted short-duration Film Appreciation courses in Mumbai, Pune, Nagpur, Amravati, IIT Bombay, IIT Roorkee, Srinagar, Ahmedabad University, Ahmedabad, Bhubaneswar, Jaipur, Gurgaon, Guwahati, Hardwar and Srinagar (Uttarakhand).