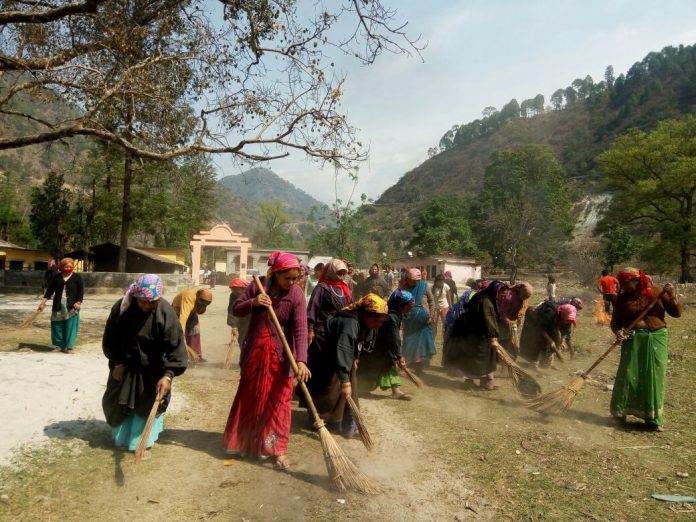 Chamoli, After the successful completion of cleanliness drive in his ancestral village Kandar, under the banner of 'Mera gaon -swachh gaon' engineer-turned-social activist Bhuwan Singh Rawat, has now crossed borders to Dewali Bagad. Being the god-fearing person that he is, Bhuwan first paid his respects to a temple dedicated to Lord Shiv in the village and then started his mission of cleaning up village Dewali with its inhabitants.
Bringing alive the motto "mera gaon-swachh gaon," villagers of Dewali took the cleanliness pledge. Two hours, two days in a month villagers would come out to ensure their village was clean and hygienic.
The mission was flagged off by a traditional dance, followed with much fanfare that attracted many a people to join the cleanliness drive.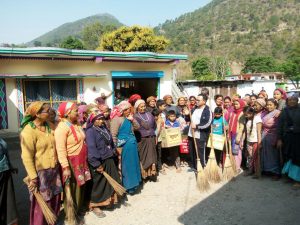 Bhuwan Singh states, "We have to give up the habit of looking at the State government for everything, we have to serve our village, our state and our country." Women, children and youth poured out onto the narrow bylanes of the village to partake in this unique service.  Every household sent off a woman, child or youth to assist the team in making their village clutter  and garbage free. 'Mera gaon, swachh gaon' eco-friendly dustbins dotted the clean lanes Dewali ensuring that all the rubbish collected was well disposed off.
Prior to this, "Mera gaon swachh gaon"  was limited to village Kandari, where one person from every household would partake to clean their village every first and third sunday of the month.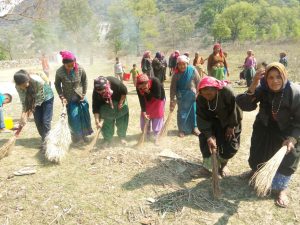 Under the mission, while cleanliness is of utmost priority, eco-friendly dustbins are placed throughout the village so that garbage is disposed of properly. Specific lanes are highlighted by bleaching powder guiding locals and tourists to these eco-friendly dustbins.
"Mera gaon swachh gaon" goes a long way to show that, we the people, dont have to wait for the State administration to wake up from its deep slumber to aid and assist in keeping our environment clean. Passionate people like Bhuwan Singh Rawat and his unique initiative will go a long way to ensure that our hills and its villages remain clean and litter-free for years to come.