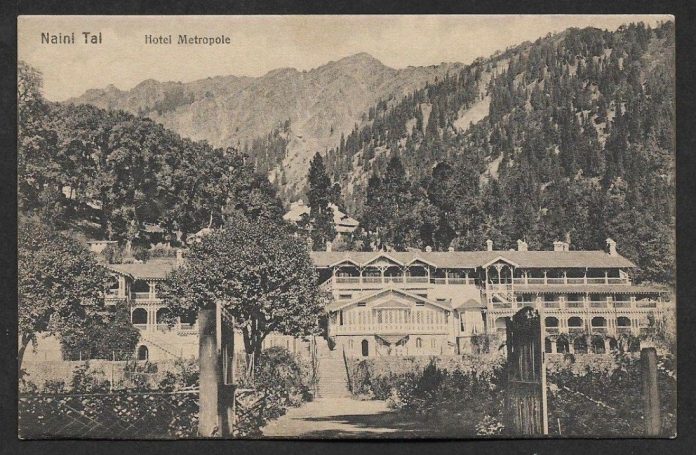 Nainital, The Jewel of Nainital, a symbol of the hill-station's rich architectural heritage, its oldest Hotel, Hotel Metropole was ravaged in a fire last night.
One of the best living examples of the flat non-corrugated, galvanized tin-roof which came to be known in British records as the 'Nainital Pattern Roofs,' built in 1880 in a grove of deodar trees, the hotel went up in flames at around 7:00 p.m. last night.
Infernos like this destroyed the Standard Skating Rink, Mussoorie in the 1960's and the Charleville Hotel, Mussoorie in the 1970's.
SP Crime Nainital, Rachita, updated Newspost about the current status stating, "the exact cause of the fire has yet to be ascertained and post which we will take this forward. Four fire brigade trucks took two hours to douse the fire, in which the roof of the property and three rooms were turned to ashes."
The property had been lying neglected ever since the 11 acres of prime land was declared Enemy Property as the Nawab of Mehmodabad, Raja Amir Ahmed Khan left for Pakistan, leaving the property to be run as a hotel by a Parsi couple. Hotel Metropole housed seventy-five rooms and five tennis courts. This saga of neglect saw the tennis lawns, shamelessly being used as a parking lot for vehicles, in a hill-station that is constantly struggling for parking grounds.
Counting among its many guests was Mohammad Ali Jinnah the Founder of Pakistan who stayed there for his honeymoon. Numberless film stars, crews, units made Hotel Metropole their base, as they went shooting in the beautiful hills of Kumaon.
Tied up in legal tangles and the lack of a Uttarakhand Heritage Act, despite High Court orders, its not Nainital alone that has lost a part of history, but the hill-state of Uttarakhand. Enough to make the hardest of hard hearts weep.