Dehradun, Doonite Satish Sharma will once again make his presence felt on the silver screen, with yet another big Bollywood banner shooting in the valley.
Directed by Director Omung Kumar known for 'Mary Kom' and 'Sarbjit',  and co-produced by Suresh Oberoi, Vivek Oberoi's father along with Sandeep Singh the film "PM Narendra Modi" is being shot on-location for the fourth day in a row in Dehradun's premier institute Forest Research of India.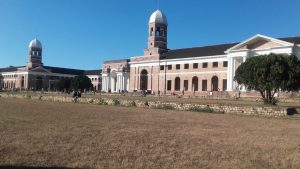 The biopic is being shot on war footing, with three separate film units working simultaneously in the city.
Actor Vivek Oberoi is essaying the role of Prime Minister Narendra Modi in a get-up complete with prosthetics and beard, this daily routine takes the actor close to three hours. The first look of the actor was revealed on twitter on the 7th of January this year. Scenes from the PMO are being enacted with Actor Prashant Naraynan and veteran actor Anjan Shrivastav and Satish Sharma in the conference room of the Forest Research of India which will be showcased as the Prime Minister's Office in the upcoming movie.
In another corner of the premier Institute, the magnificent corridors of the Forest Research of India come alive with a different set where a few scenes of the movie are being filmed as well.
With a month to go, the entire unit is making sure that the movie will be released by 4th of April in 23 regional languages, before the next election dates are announced.
It may be recalled that Satish Sharma is Editor of "Garhwal Post" published from Dehradun. Journalist turned actor Satish has worked in a dozen movies so far. His upcoming movies are 'Firkee' and his first South Indian film 'Kaappaan' will release in May this year.