Plastic Pollution, one of the greatest environmental threat prevailing across the globe has also spread its tentacles across the Himalayan region of India.
Dehradun capital of Uttarakhand generates close to  100 to 150 tons of plastic waste every day. Due to mismanagement of waste, most of the plastic either ends chocking gutters, sub mountain riverbeds or our dwindling forest cover.
At 32, Tarun Goyal a mechanical engineer by profession left behind his comfortable life in Abu Dhabi and returned to Dehradun to find an innovative solution to disposable of single use plastic. He founded his own company, and for the first time in Uttarakhand, he alone can boast of manufacturing compostable bags that turn to compost within 12 to 13 weeks.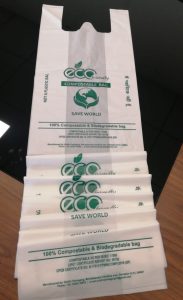 My primary aim is not just to sell compostable bags but rather educate the society at large about the ill effects of plastic that we are using and how it is effecting our natural surroundings" Tarun Goyal, Founder, Vikalp, tells us.
Tarun and his team is building awareness on need for alternatives to single use plastic items as well. Post extensive R&D on alternatives required to beat plastic pollution, kind of raw material required to build eco friendly alternatives, Tarun ended up discovering compostable bag and set up his own factory to manufacture the same.
Approved by the Central Pollution Control Board of India along with Central Institute of Plastic Engineering and Technology (CIPET) for official testing and standardization of the product states, "bags by Vikalp are capable of self-degradation and can get compost into soil within 12 to 13 weeks without damaging the fertility of the soil. The product also has proper ISO standards and approvals for the same," he tells us with pride.
"Through Vikalp we are reaching out to diverse category of stakeholders like business owners, students, educational institutes, women groups, industries in order to sensitize them towards the problem of plastic waste management" adds Tarun.
In the near future, Tarun plans to expand his campaign Vikalp by partnering with range of stakeholders like government bodies, private business enterprises, municipalities, domain experts among others.
The compostable bags are available in four different sizes with load bearing capacities – 2 kg, 3Kg, 5 Kg and 10 Kg. Tarun's bag's can be found at outlets ranging from grocery stores, bakers to even restaurants, who come with the same thought process of saying 'no to single plastic use.'