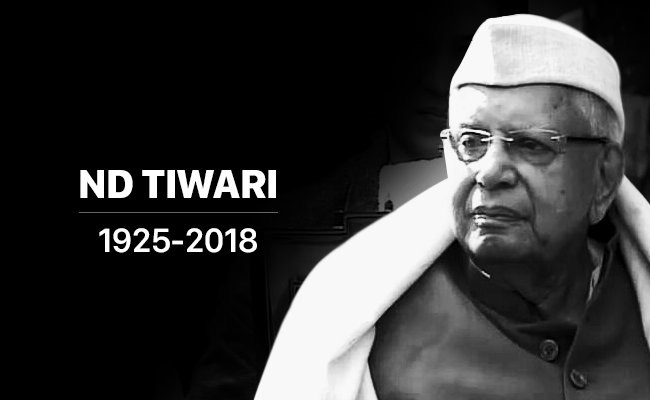 Veteran politician ND Tiwari, who suffered multiple organ failure in July, has died at a hospital in Delhi. It was Mr Tiwari's 93rd birthday today.
"Mr Tiwari was admitted at the Max Super Speciality Hospital in Delhi and died at 2.50 pm," the doctors said.
ND Tiwari, a Congress veteran, was shifted to the Intensive Care Unit (ICU) of the hospital on October 26. He was suffering from fever and pneumonia. A team of doctors was monitoring his condition in the ICU round the clock.
Aged 92, Narayan Dutt Tiwari bid farewell to the world. With the passing away of ND Tiwari a golden era in the politics of the country and more so, Uttarakhand comes to an end. A veteran politician, ND Tiwari was revered by all, even his opponents. He leaves behind a glorious trail in the politics of the hill-state, for many saw him as a visionary and go-getter.
Born in 1925, in Baluti a small village outside Nainital, Tiwari moved his way up the ladder in politics Initiated into the world of politics as the President of the Union of the Allahabad University, the octogenarian politician never looked back. He was thrice the Chief Minister of Uttar Pradesh (1976–77, 1984–85, 1988–89), the largest State in India and later Uttarakhand that was carved out of Uttar Pradesh.
He was the first elected Chief Minister of Uttarakhand who enjoyed a full-term from 2002 to 2007. ND Tiwari also served in Prime Minister, Rajiv Gandhi's cabinet as Minister for External Affairs with his last stint at politics being the Governor of Andhra Pradesh from 2007 until 2009, when he was forced to resign following a sex scandal.
An elected member to the 7th Lok Sabha in 1980,1996 and 1999 Tiwari ji held several important portfolios. He married twice, first to Sushila Tiwari, and then to Ujjwala Tiwari on 14 May 2014, the mother of his biological son Rohit Shekhar with whom the veteran fought a paternity battle that ruled the headlines towards the end of his political career.
Paying his condolence to the departed leader Uttarakhand Chief Minister Trivendre Singh rawat said "He played an important role in Indian politics. He will be remembered as an able administrator, diplomat and for working towards the progress of Uttarakhand just after the state was formed."
Since 20th September last year, the leader had been in and out of hospital with various health issues. He was admitted to a private hospital in New Delhi, a few days back with stomach infection and kidney failure and was being treated for the same.