Dateline Dehradun: A defense scientist in Dehradun, Shabir Ahmed has been keeping himself busy. The scientist, keeping in view the recommendations of the World Health Organization to maintain highest level of hand-hygiene during the Covid-19 pandemic, has developed a state-of-the-art machine, titled: MHWU or Mechanical Hand-wash Unit.
The foot-operated device (one pedal to for liquid soap and the second pedal to pour water) is based on link and pivot mechanism without any electrical or moving part thus making it highly robust.
22×22 inches wide, 36 inches in height, less than 25 kgs in weight and the total making cost less that then thousand rupees, makes the machine affordable, compact, portable and most importantly, a possible lifesaver.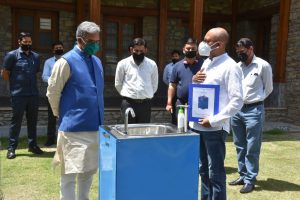 Shabir Ahmed adds, "Structure of the MHWU has been analysed using high-end mechanical software tool to carry out analysis of critical components from failure point of view. This ensures the highest level of reliability and quality of the product."
The initial unit was put together within five days from its concept to its fabrication by a small factory in Dehradun, M/S Doon Engg Works using local components. Shabir adds, "The unit has a wider application and can be used by one and all. The unit can be installed in offices, hospitals, religious and public gatherings."
The first unit was developed, funded and donated by Shabir Ahmed to the Chief Minister of Uttarakhand on the 17th April, 2020, along with its mechanical design, assembly and installation documents that clearly elaborates the technical know-how of the product, in the hope, "that the machine could be replicated and made available at each and every public place at the earliest, and help to fight the Covid-19 Pandemic. "
But how long it will take for this innovative idea to move from paper work to ground reality awaits to be seen.