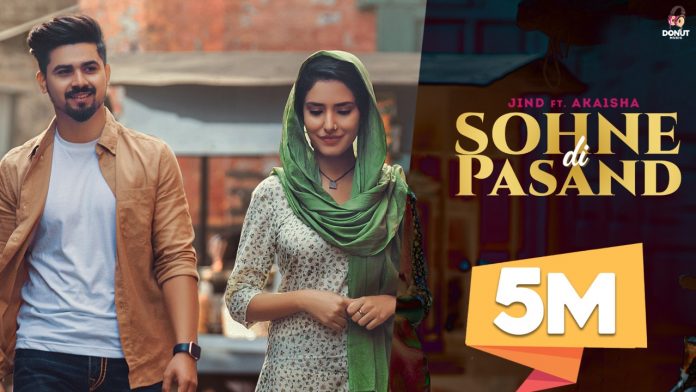 Dateline Mumbai: Punjabi romantic song 'Sohne Di Pasand' released on YouTube has garnered five million views and counting within a month of its online release.
The song not only articulates the visual tale of an adorable love-story but it is also thought provoking. The song seems to have pulled on the heartstrings of young lovers across the globe and made an instant connect with their fans. While singer Jind has lent his soulful voice to 'Sohne Di Pasand,' beautiful and talented leading lady Akaisha adds magic to the musical saga. Shera Dhaliwal of Donut Music is the producer as well as the lyricist of the four minute song which has been Directed by Abhaynoor Singh who is making his debut in the industry with this Punjabi song.
Shot on location in Chandigarh, the love story of 'Sohne Di Pasand' revolves around a small town innocent love story. It is the story of how a humble Muslim girl played by talented Akaisha falls in love with a rich Hindu boy enacted by Jind himself. While the girl's brother is skeptical about the match, the storyline ends with the boy convincing his parents to ask her hand in marriage and then getting engaged. The musical video highlights the pertinent message of how sentiments of love cannot be justified in terms of religion.
Though sung in Punjabi what makes 'Sohne Di Pasand' extraordinary is its unusual Gujarati beats, a first-of-its-kind experiment in the Punjabi music industry thanks to Jaymeet.
'Sohne Di Pasand' as envisioned by Shera Dhaliwal has been beautifully scripted by the dedicated team who worked with the aim of not only producing a melodious song but also on sending out an important social message to the younger generation on how religion should hold no barriers when it comes to true love.