Dateline Mussoorie: For the past three weeks, the Snow God has been playing hide and seek when it comes to snowfall in the Queen of Hills Mussoorie. While towns like Dhanolti, Kanatal abutting the hill-station remain covered under a mantle of snow since last week.
Over the weekend, hordes of tourists descended upon their favourite destination to witness the magic of the season's first snowfall in the areas surrounding Mussoorie. Of course the crowds overflowed into town  and almost brought the hill station to a grinding halt.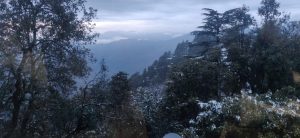 For teashop and Maggi point owners, the business prospects were good. The sudden fall in temperature meant a good tourist turn out especially for those along Dehradun-Mussoorie road and enroute to Dhanolti and Kanatal. Suakholi some five kilometers from Mussoorie saw maximum footfall.  Pundirji of Pundir Dhaba at Suakholi was a busy man. His sales of Maggi, piping hot vegetarian thalis, paranthas followed by umpteen cups of tea had kept business rolling. He says 'It is a welcome change. Snowfall means good business.'
According to the Met Department icy winter's march across Uttarakhand seems to have some respite in sight, "There could be snowfall at an altitude of 2500 mtrs and above. Light and moderate rainfall is predicted in the low-lying hills and the plains over the next 24 hours. The weather will clear up from tomorrow onwards for a week or so."
Since the end of December, the hill-station has witnessed sub- zero temperatures, rain, hail and sleet and a dusting of snow off and on but the elusive season's first snowfall seems to play hide and seek as of now, keeping residents and tourists wondering.