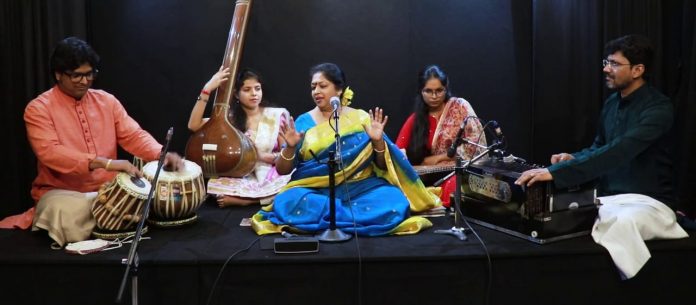 RISHIKESH: 'Shruti-Sarita Art' presented "Raga Ragini-2023", a digital music confluence based on Indian classical music. Artists from all over the country showcased their soulful performances. The programme commenced with lighting of the lamp before Dr Swami Rama's portrait.
Ashish Kukreti, the founder of Shruti-Sarita Art and a classical musician, mentioned that "Raga Ragini-2023" series is being organised from 15 July. Young artists from across the country are presenting their renditions under the weekly programme (Digital Session).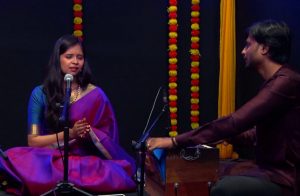 In the first event, Sanika Kulkarni beautifully presented the composition "Deo Dan Mohe" and "Piharwa Aao Tum Ham Mil" in Raag Yaman Vilambit Ektaal, composed by Pandit Kumar Gandharv. Ashay Kulkarni on Tabla and Abhinay Ravande on Harmonium accompanied her. In the second event, Shirin Sengupta Nath presented Raag Madhu Malhar. Kaushik Banerjee on Tabla and Kamalaksh Mukherjee on Harmonium provided accompaniment. This was followed by Saumalya Mukhopadhyay presenting Raag Tilak Kamod on Mohini Veena, with Samit Banik on Tabla. In the final event, Dr Pandit Ranjit Sengupta presented Raag Abhogi on Sarod, accompanied by Kaushik Banerjee.
Ashish Kukreti mentioned that Shruti-Sarita Art is committed to providing a suitable platform for classical musicians. It would continue to organise such programme from time to time.
A few months ago, the Heritage-2023 event was also successful. It featured renowned Dhrupad vocalist Pandit Nirmalya Dey presenting traditional compositions of Dhrupad and Dhamar in Raag Bhupali and Raag Desh. The programme concluded with "Shiv Shiv Shiv Shankar Adidev" in Raag Adana.