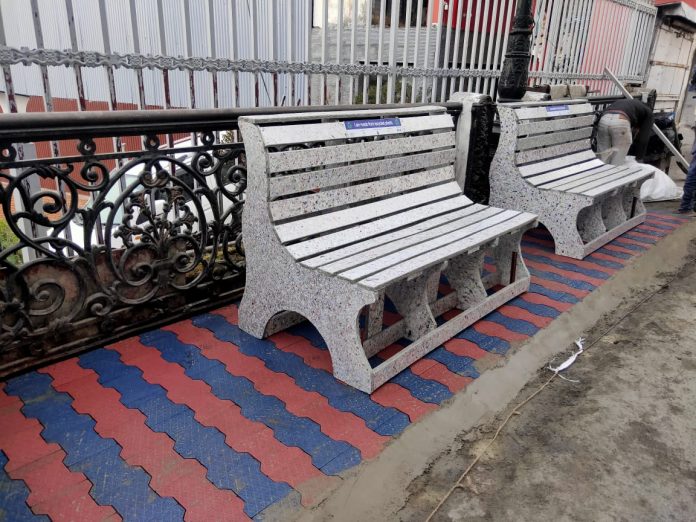 Dateline Mussoorie: As a part of Hilldaari initiative, over a dozen recycled plastic benches and 430 sq. ft of pavement has been laid with recycled tiles in Mussoorie with consent from not only the City Board but the Forest Department and the Cantonment Board.
"The aim of placing recycled furniture at public places is to inspire people to look at waste as a resource and adopt waste-conscious behaviour for a hopeful and sustainable future," updated Arvind Shukla, Hilldaari Head.
Designed and manufactured by Shayna Ecounified India Pvt Ltd, Paras Saluja its Founder & spokesperson applauding Hilldaari efforts to implement source segregation says, 'these interventions are solving a crucial roadblock in the recycling industry and will go a long way in leading the battle against plastic littering.'  
Weighing seventy kilograms each, the fifteen benches are made from approximately 1,05,000 multi-layered plastic packets (MLP). Placed at various tourist spots across the hill station from Picture Palace to Lal Tibba, Bala Hissar to Mussoorie Lake, these benches are winning accolades.
Along with this, approximately three hundred milk pouches (Low-density Polythene) were recycled into making one tile alone. To date, the project has utilised some eighteen hundred odd tiles for laying a 430 sq. ft pavement on the Mall, thus diverting around 21,25,000 pieces of discarded plastic waste from the landfills to create functional products such as these benches and tiles.
For the past two years and counting, Hilldaari has been working in Mussoorie to develop inclusive, resilient and contextualised model for solid and plastic waste management. With its latest intervention, the project intends to serve a dual purpose: Add beauty and meaning to public spaces while instilling a sense of hope for a more sustainable future.