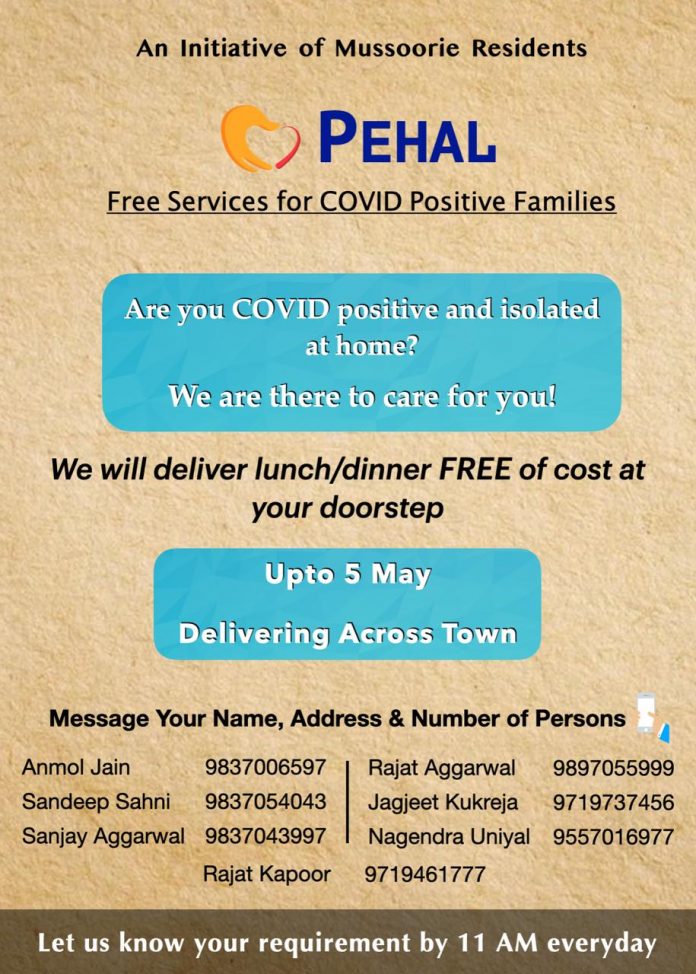 Dateline Mussoorie: Taking cue from Samaritans across the country, a handful of Mussoorie residents have come up with the idea of making simple yet wholesome homemade vegetarian meals for those living in home isolation due to Covid-19.
The piping-hot lunch and dinner meal will consist of one green vegetable, daal, rice and roti made available at the doorstep of those in home isolation. All that one needs to do is call on any of the below given numbers by 11:00 a.m., share their contact details, address and requirement (number of meals required) and freshly cooked home-made food, through contactless delivery, will be delivered at their doorstep, anywhere in Mussoorie, free of cost.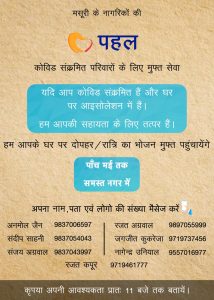 With Covid cases reaching almost two hundred across Mussoorie and most of them in home isolation, this timely help for those in need, is a welcome step lauded by one and all. Rajat Kapoor one of the volunteers for Pehal, tells us, "It was a voluntary effort by us. We know that isolated families of those affected by Covid 19 are struggling to fend basic necessities for themselves let alone cook meals at home. It is a conscious effort." Another volunteer Rajat Aggarwal, further adds, "We have come across few individuals who were arranging food and groceries for themselves and their families, but since they were isolated and unable to move out due to Covid 19, a need was seen to help such individuals, students, elderly and families who had nowhere else to go."
Since its inception, Pehal has had a few orders come in and the initiative that began with a close knit of seven like-minded residents of Mussoorie is open to the idea of having more volunteers on board, as Sandeep Sahni puts it, "More hands are always welcome, more people might also come up with newer ideas on what else we can do."
For now Pehal will be distributing free meals until 5th of May and if need be, would continue to do so after that as well.