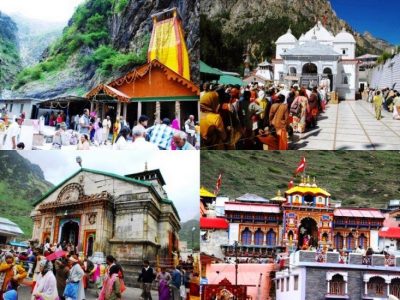 Dateline Dehradun: Due to the pandemic, the 2021 world famous Chardham Yatra has been postponed. Chief Minister Tirath Singh Rawat stated that the shrines would open on the pre-decided auspicious dates by Rawals and Pujaris, minus pilgrims. Badrinath MLA Mahendra Bhatt tweeted the same early today morning. The portals of Yamunotri, Gangotri, Kedarnath and Badrinath are set to open in the second week of May.  The Sikh pilgrimage site of Hemkund had earlier postponed its opening in lieu of the pandemic.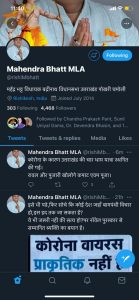 Last year too, due to Covid-19 Chardham Yatra was stalled and subsequently opened on July 1, 2020. To make the most of Chardham pilgrimage this year, Uttarakhand Chief Minister Tirath Singh Rawat had stated, "Chardham of Uttarakhand is the center of our faith."  The entire State machinery, post the Mahakumbh was working on war footing, to facilitate the pilgrimage with adequate arrangement for drinking water, sanitation, sign-age along with other basic facilities enroute.
Tirath Singh Rawat had laid stress on arranging water ATMs and  water tankers on travel routes. Posting of cardiologists in Kedarnath and Yamunotri along with oxygen cylinders, ICUs and ventilators. Installation of streetlights along the Hemkund route. Commercial vehicles on yatra route to ply with fitness-certificate, fixed rate list for vehicles and hotels along the pilgrimage route. The Chief Minister and his team of officials were leaving no stone-unturned to ensure that all falls into place before May.
Chardham Yatra is one of the major sources of income for a State that thrives on spiritual tourism. This time around with the Mahakumbh in April followed by the Chardham pilgrimage in May, the State was looking at a rapid increase in devotees making their way to 'Devbhoomi,' but all that had to be postponed due to the pandemic.
Chardham Opening dates:
Yamunotri : 14th May
Gangotri : 14th May
Kedarnath: 17th May
Badrinath : 18th May
Off-the-beaten-track temples:
Rudranath: 17th May
Madmaheshwar: 24th May
Hemkund Sahib: Postponed