Dateline Mussoorie:  Republic Day celebrations are special throughout the country. Yet, the 73rd Republic Day celebrations in New Delhi held a special connect to Uttarakhand or should we say Mussoorie.
The cap donned by the Hon'ble Prime Minister Shri Narendra Modi during the three-hour Republic Day Parade was first conceptualized and designed in Mussoorie. Be it an election gimmick or his love for the hill-state, this gesture of the Prime Minister has won the hearts of Uttarakhandi spread all over the globe.
Launched on 9th of November, 2017 on the occasion of Uttarakhand Divas in Mussoorie,  the cap has been designed by Sameer Shukla of Soham Himalayan Centre, Mussoorie and is popularly known as the 'Brahmakamal Pahadi Topi.'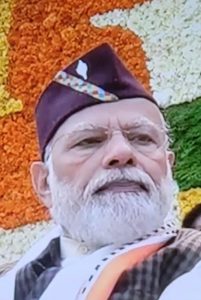 The Brahmakamal motif denotes the auspicious Himalayan flower and the four colour stripes stand for human, nature, earth and sky. What makes it even more special is the fact that local tailors and artisans were looped in to bring this 'Made in India' product which has become a fashion rage.
From regional to national celebrities, those who have roots in Uttarakhand or have been associated with the hill-state have worn the 'pahadi topi' with pride. The young seem to have taken an instant liking to the head-gear and have made it a fashion statement.
Raman Shelly of Tuds.in tells me, "Ever since we put the picture of PM Modi wearing the 'pahadi topi' on our social media handle our organic searches for the headgear has increased tremendously. We have had a good number of orders now."
In the past, the Uttarakhand Tableau at the Republic Day Parade won laurels for the hill-state for being adjudged the best tableau three times in a row but this time around, it is the 'pahadi topi' which wins our hearts, hands down.
For those who want to order 'pahadi topi' do log in to: Tuds.in