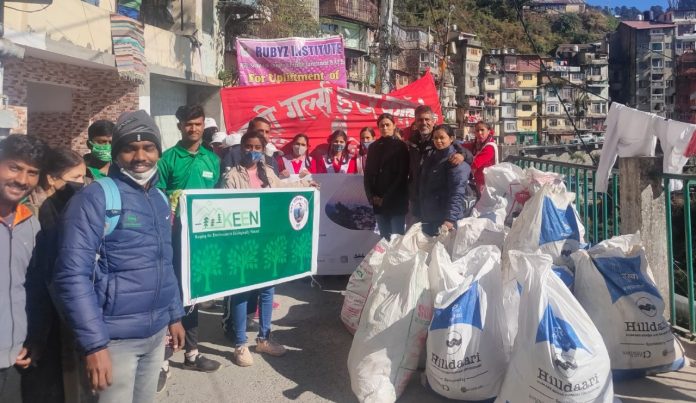 Dateline Mussoorie: Students from the Eco-club of Mussoorie Girls Inter College, supported by Mussoorie Municipality, Keen, Hilldaari and The Fun Brentwood carried out a mega clean-up drive on the occasion of International Mountain Day in Mussoorie today.
From early morning till late afternoon over six hundred kilograms of dry-waste was collected in the clean-up drive implemented by Hilldaari Nestle' India project along with Stree Mukti Sanghatana and their technical partner Recity Network.
"It is young students like ours who can spread awareness and take back their experience back home. The children were very earnest about their job at hand. Not only did they collect the waste in bags but carried it to the road-head. It was a sincere approach by the young students to carry out the clean-up drive in the entire stretch of  area designated for the purpose," says Masanti Dhanai, English lecturer, Mussoorie Girls Inter College.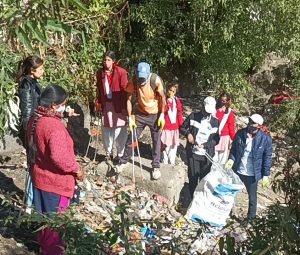 The dry waste collected during the day  was transported to the dry-waste center situated on the Mussoorie bypass, IDH. Hilldaari team sensitised local citizens about their motto,  "collective change, collective responsibility – Hamaara Kooda, Hamaari Zimmedaari."
Citizens were asked to handover their daily garbage to Paryavaran Mitra instead of dumping it in the open. They appraised those present about the hazardous impact of climate change on the geographical conditions of the mountains and how it was our collective responsibility to conserve, preserve and save of what remains of our fragile environment .
Over the past three years, 120 such lean-up drives have been conducted in which over six hundred and seven MT of garbage has been diverted from Mussoorie alone that would end up choking our environs thanks to the combined efforts of Mussoorie Municipality, Hilldaari, Keen and various organizations.