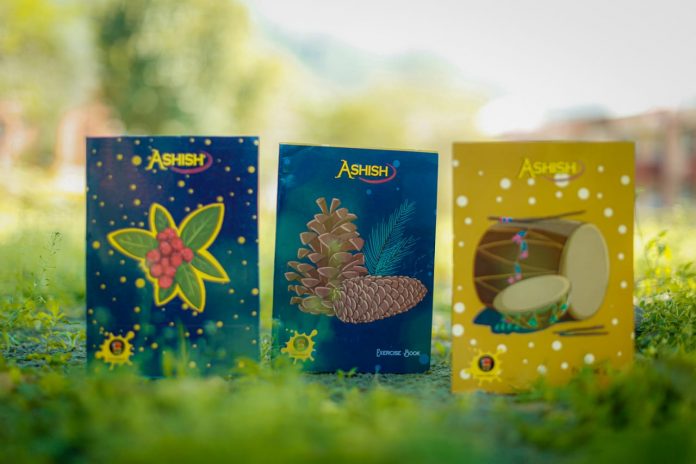 Srinagar, As the new school session for 2020 begins there is something interesting in store for school going students and staff.
School notebooks, Hindi and English designed by TUDs showcasing our culture and tradition via bright, colourful, illustrated covers will make this school session something to look forward to.
Single-line notebooks priced at 20 rupees and above have twelve unique illustrations as covered and were recently launched at IVY Top, Srinagar. The notebook covers showcase festivals such as Phooldie, Ghugutiya, Kauthig, traditional musical instruments, costumes, flowers and berries from our hills of home with a brief bilingual write up at the back in simple text for young minds to refer to.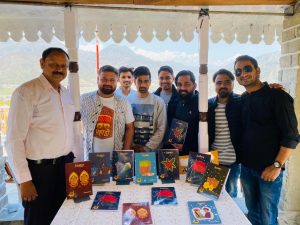 According to Raman Shelley the brain behind TUDS, effort is to connect youth and children with our mountain roots in whatever way possible. Shakti Doval from Ashish Book Depot Srinagar feels that this effort of ours will ensure that our culture stays alive in the hearts and mind of the future generation as we they are are trying to catch them young.
Those present at the occasion unanimously praised the efforts and thought behind the notebooks. Winner of Voice of India Pawandeep Rajan, young folk-fusion artist Ruhan Bhardwaj, young entrepreneur Tarun Chauhan, Jyoti Prakash Bagwadi, felt that these vibrant notebooks should be distributed amongst all school going children so that our rich history becomes an inseparable part of students in the region.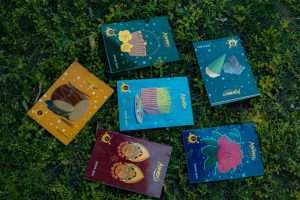 Everyday, young minds from Uttarakhand are coming forward with innovative thoughts and new ideas to highlight the region in whatever field they choose, be it digital, our authentic cuisine, art, craft or any other platform.
Adding to the long list of products by TUDs this latest collection helps in bringing pahadi culture and tradition, in a simple way, into the lives of young scholars in the hope that they will then pass on the baton to future generations.
To order, click: http://www.tuds.in