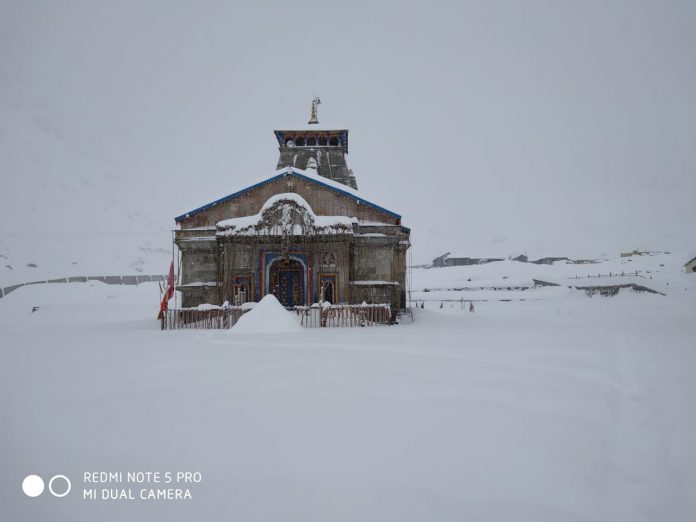 Dehradun, Continuous heavy snowfall in the upper reaches of Uttarakhand has brought life to grinding halt. At 3,553 metres, in Kedarnath valley,  outdoor reconstruction/restoration work has come to a stand-still due to sub zero temperatures and heavy snow.
In the heart of winter, frost, icy cold winds, sleet, hail and snow in the upper reaches brought mercury plummeting down with a complete white-out. Already four feet of fresh snow has carpeted Kedar valley and its surrounding area, with more snowfall predicted for the region.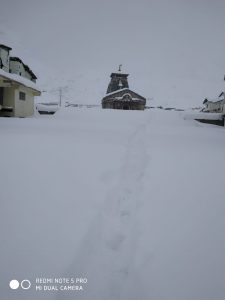 When most would look for comfort and warmth of their homes, a motley of seventy men are braving it out in Kedar Valley. For the past two days, the team has been cooped up indoors carrying out restoration work. The dedicated team stationed there are praying to Lord Shiva for clear, blue skies and sunshine so that they can complete the exterior restoration work on the temple and its periphery, before the portals reopen for pilgrimage this season.
Captain, Shovan Singh Bisht, Incharge of Wood Stone Construction Company speaks for all when he says, "we have had continuous snowfall since last night. With sub-zero temperatures people stationed here for reconstruction work are facing a lot of difficulties. As it is very cold, water pipes are frozen, we are melting snow to arrange for drinking water."
Fighting inclement weather, sub zero temperature, scarcity of drinking water, men between the age group of twenty to fifty-five are making sure the dream vision of Prime Minister Modi is fulfilled on war footing, even if it were at the cost of fighting nature's wrath .