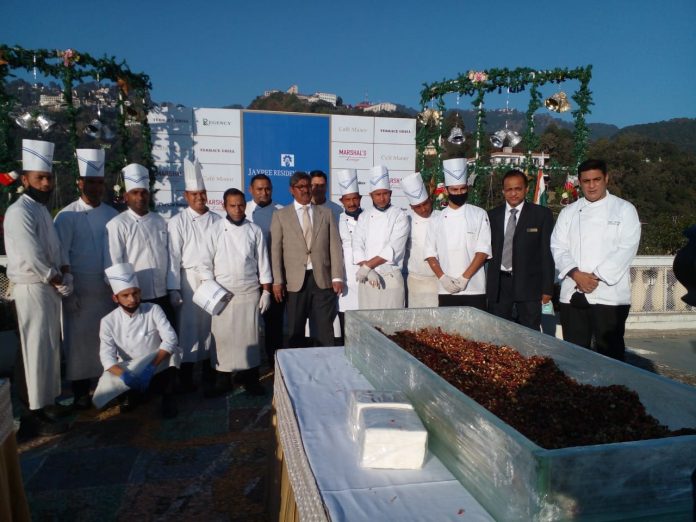 Dateline Mussoorie: It's the season to be jolly! And what better way to ring it in than a Christmas cake mixing against the backdrop of the Queen of Hills, Mussoorie sprawled across nineteen square kilometers.
A day after Advent Sunday, Jaypee Residency Manor Mussoorie turned out in all its festive revelry to keep its date with tradition. With the winter sun in all its glory, the customary cake mixing party was held in the terrace.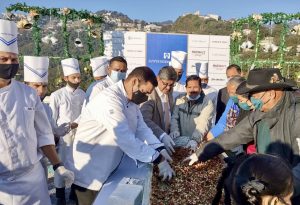 Executive Chef Tanuj Nayyar guided the guests to mix ingredients including black currant, apricot, rum soaked figs, drunk raisins, dates, candied orange peel, candied ginger, dry cherries, tutti frutti and candied pumpkin, spices along with, "organic apple-based wine which made its way all the way from Mukteshwar," he says.
Also present were students from class 6-8th of Nirmala High School who had just got a well-deserved break from their school exams. Dipping their hands into the cake-mix, for most of them this was an enriching experience. Shanu from class 7th who had just finished her science exam tells us, "it was very exciting and fun mixing dry fruits with the wine,' Anushka adds, "for us this was a much needed outing with our friends. It is nice to learn traditional recipes."
For the last fourteen years, Anil Sharma, VP, Jaypee Residency Manor, Mussoorie has kept the magic of the Christmas cake-mixing alive. He ensures that the school children carry on the baton and add to the festive spirit, "We want the children to see and learn. We want them to carry this tradition forward."
Hill-stations and cake-mixing towards the end of November have become synonymous with winter. Here is a ritual that ushers in the festive season, good tidings and ends on a high note with New year eve celebrations, attracting tourists from home and abroad.