Dateline Dehradun: Carrying forward, Indian Military Academy's endeavour to collaborate with renowned institutes of the country to foster partnerships for mutual development and growth, the Himalayan Institute of Medical Sciences (HIMS), SRHU, Dehradun, was invited to IMA to conduct a ground-breaking training on Basic Life Support & First Aid of Common Emergencies both in Peace and Combat scenario.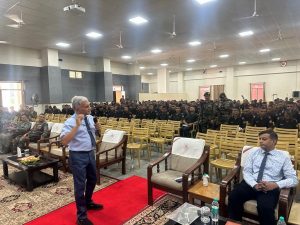 Over 400 gentleman cadets, including international cadets, were trained by the team of eight experts, comprising specialists and super-specialists, lead by Surgeon Rear Admiral (Prof) Girish Gupta NM, VSM (Retd.) from the HIMS.
Holistic training was imparted to the gentlemen cadets of IMA, to empower them not only with conventional nuances of life-saving, but also impart them with requisite training on life saving methodologies which is a critical requirement during military operations.
They were imparted training regimen that covered an array of critical topics including Basic CPR, Management of Bleeding, Head and Spine Injuries, Stabilization principles, and handling emergencies arising from snake bites and scorpion stings.
The training program adopted a hands-on approach, along with informative lectures and essential practical training sessions, where the cadets practiced on 26 mannequins concurrently. The participants were also provided with a comprehensive handbook covering
all the topics discussed during the training, including a credit card-sized BLS card, which can serve as a quick reference guide in future.
These collaborations are a conscious attempt by IMA to pioneer an era of shared learning and provide new vistas in the training curriculum. It embodies a significant step towards fostering a culture of preparedness and service, hallmarks of the esteemed institutions like IMA, Dehradun.