Dharchula, A picture speaks a thousand words. And that's how I felt when I came across Geeta Thakur's picture on a Facebook post shared by a friend. Lurking behind the broad smile was story of a strong woman undertaking an arduous journey to live a more dignified life.
29-year-old Geeta Thakur is our first woman high altitude porter for those undertaking the Om Parvat or the Adi Kailash Yatra.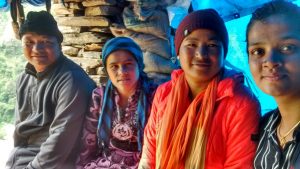 Second amongst eight siblings, Geeta watched how her ageing parents struggled day in day out to keep the hearth warm in their one room rented set in Dharchula. The class 8th pass-out, Geeta decided to help her family, and with limited job options in her vicinity she was left with little option. As many trekkers' enroute to Om Parvat or Adi Kailash Yatra, went past her village Jupti, Geeta decided to take become a high-altitude porter, herself.
It wasn't easy to start with. A lot of resistance and criticism was flung at her, but Geeta remained undeterred and replied, "If you don't need food to eat, doesn't mean we dont!" and that silenced her critics.
Geeta is a true daughter of the mountains she calls home, and believes, "no work is big or small. When men and women can eat similar food, why can't they do similar jobs? I can do anything." And she does just that, but with a broad smile on her face.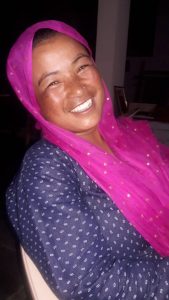 Geeta Thakur set out on the 12th of July, with a Bengaluru-based father- daughter duo enroute to Om Parvat and Adi Kailash Yatra. She carried 50 kgs  and covered 140 kms, over eleven days. Now home, just a little sunburnt, she is more determined than ever to head back soon.
Geeta Thakur is a symbol of equality and women empowerment from the inner recesses of Uttarakhand, one that inspires us not to wait and watch but to conquer mountains of the mind.