Rudraprayag, In an attempt to promote 1 out of the 13 new destinations cherry-picked by the Uttarakhand State Government as offbeat destinations, the district administration in Rudraprayag is leaving no stones unturned to promote Chirbatiya, located at an altitude of 2250 meters.
Following the success of its first half marathon last year, this year too, Chirbatiya will host the 2nd season of 'Chirbatiya Monsoon Hill 1/2 Marathon,' on the 1st of September. With registration open until 16th of August, there is a 21.1 km, 15 km and 5 km track which will take the runner through pristine trails which had attracted 650 registered participants last year as well.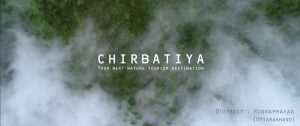 This time around, adding 'traditional beat' to the marathon is a 3:30 minute peppy-theme song put together by The Pandavaas entitled 'Danak-Danak' which in Garhwali means 'Run.'
The team Pandavaas includes Ishaan Dobhal who has put together the music, Salil Dobhal on Camera assisted by Navdeep Saini, while the video created by Kunal Dobhal has been shot in the heart of monsoon captivating breathtaking locations of the hill-district over a period of 15 days.
Telling us more about his shoot Kunal adds, "Rain God played spoilsport but we were adamant to capture the monsoon magic on camera. We were patient and sat for days on end waiting for that 'perfect-shot' which has brought the 'wow' factor into the video."
RJ Kaavya of 93.5 Red FM fame has lent his baritone for the Hindi rap in 'Danak, Danak' along with Shiwani Bhagwat, the female voice bringing alive the Garhwali melody in the song.
Mahima Bisht, Runner up Miss Kumaon cast in the video, along with her male counterparts Anurag Bhatt and Mixed Martial Art champion from Rudraprayag Angad Bisht have added grace and muscle to this audio-visual delight in an attempt to attract record breaking participants to partake in the second season of Chirbatiya Monsoon Hill 1/2 Marathon in September.
Part of the Danak-Danak Team:
Audio Recording: Updesh Vatsyan
Lyrics: Lavraj (Hindi),  Prem Mohan Dobhal (Garhwali)
Subtitles transcription: Lokesh Adhikari, Gaurav bhatt
Vfx – Ronit (Digital Dreams Studios)
And for those who havent enrolled themselves for the marathon, here is the link: https://forms.gle/gVBrnVTCrhvyusEF8