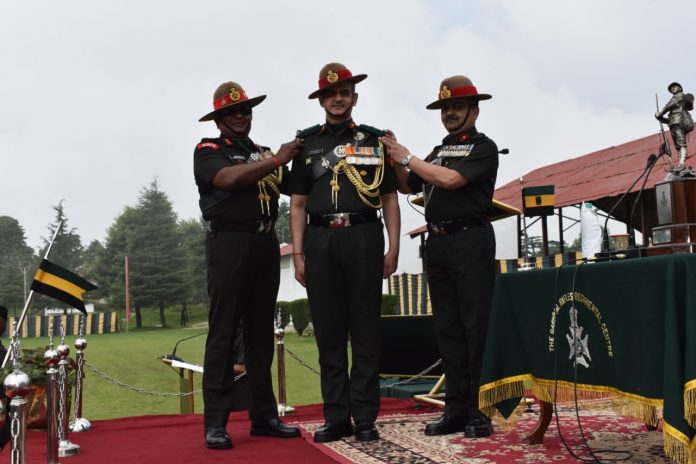 Lansdowne, In a special function organised at Garhwal Rifles Regimental Centre, Lansdowne, Lt Gen Cherish Mathson, PVSM, SM, VSM, GOC-in-C South Western Command and Colonel of the Garhwal Rifles & Garhwal Scouts handed over the appointment of Colonel of the Regiment to Lt Gen SK Upadhya, AVSM, SM, VSM, Master General of Ordnance at Army Headquarters.
Lt Gen Mathson is the senior most serving officer in the Garhwal Rifles and will be retiring on 31 Aug 2019. He tenanted the appointment of Colonel of the Garhwal Rifles & Garhwal Scouts for period of one year and three months from 05 May 2018.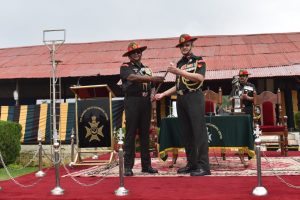 Before handing over the Colonelcy, Lt Gen Mathson laid wreath at the War Memorial and paid homage to all gallant Martyrs of the Regiment who made the supreme sacrifice and lived upto the glorious traditions of the Regiment. He was thereafter given a splendid Guard of Honour by a well turned out guard at GRRC. In a special function organised for him, he addressed the Officers, JCOs and Other Ranks. During his address, he complimented all ranks for their outstanding professionalism, operational excellence, devotion to duty and high morale. Exhorting all ranks to maintain rich ethos and heritage of Garhwali culture, he asked all ranks to work hard with sincerity and dedication to take the Regiment to greater heights of glory.
On this momentous occasion, Gen Mathson launched a Mobile application 'GARVH' which has been exclusively created to establish direct communication with all veterans of the Garhwal Rifles. The application will serve as a link between the veterans and Records Garhwal Rifles to solve their problems related to documentation and pension's claims.
A number of officers and men of the Regiment were also felicitated by him for their outstanding performance in various fields.