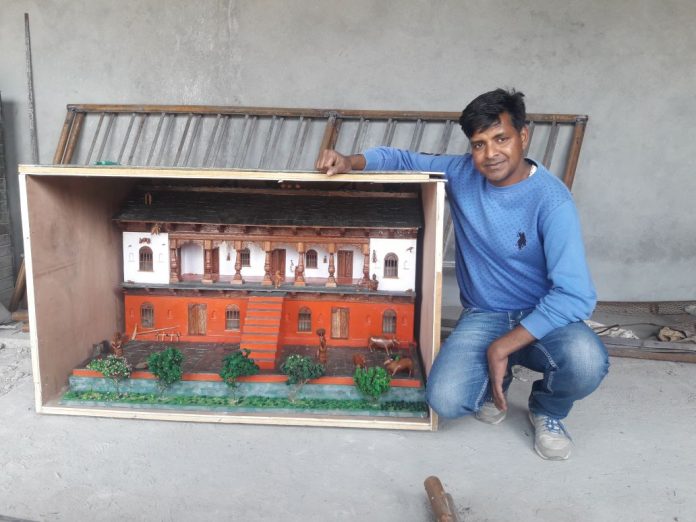 37 year old Dinesh Lal is a living example of how God works in mysterious ways. This skilled artisan calls his talent of turning wood into a piece of art, a gift from god, which has left everyone spellbound.  Earning his bread and butter in Dubai's hotel industry, Dinesh gave it all up in 2009-2010 and returned to his home in the hills. After four years of not doing much, Dinesh decided to follow his heart's calling and put his skill to use.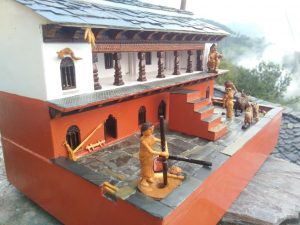 Pahadi ghar, Garhwal-ki Dharohar is a virtual art gallery of a self-taught artisan  who for the past decade has made wood his playground. Carving, hammering, polishing, designing pahadi miniature homes/Chardham Temples, Mortar, Hukka, Oxen models or anything that reminds you of the hills, and  Dinesh will chisel it in wood.
With an eye for detailing, there is minimal margin for error in his work. Each of his work of art is detailed to perfection. Speaking to Newspost, Dinesh adds, "I have been translating every detail of Uttarakhand's rich culture and tradition by translating them onto wood to keep them preserved for future generations."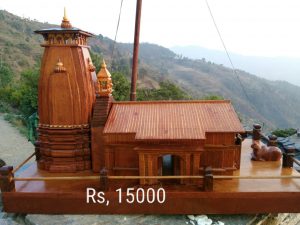 Cutting, installing, designing and then putting it all together, Dinesh Lal and his family of four have put their village of Jakhnidhaar in Tehri District on the map of famous artisans in the hill-state. With every completed masterpiece, which can take anywhere between 10-12 days Dinesh seems to hone his skills with such finesse and passion that it all seems life-like.
Today his work is being seen as a befitting souvenir to take back from here, not only the Chief Minister of Uttarakhand, but also the President of India and the Prime Minister, along with innumerable dignitaries, senior bureaucrats and MLAs have been smitten by this work.
Dinesh Lal tell us, "I have been working in this field for the past ten years. I work with my hands and my skill is god gifted. I try to bring in minor details onto my wooden canvass, from traditional pahadi homes to  Chardham temples along with every minor detail in place. I want to preserve our culture in wood."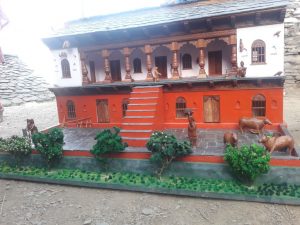 As we sign off, burning the midnight-oil Dinesh Lal is busy adding finishing touches for the Tehri Lake Festival, making miniature models of Hukka; Oxens, Wooden Jars and more, all of  which will soon be the center piece in someone's home or office giving a glimpse of Uttarakhand's unique heritage.