Coming Sunday i.e. 30th of September, Doonites will witness bikers, but of a different kind! Minus the leather gear, these 'men in tux' will ride for a mission.
Ride host, Siddhartha Wason, tell us, "This is no ordinary ride. It is absolutely different as it is organized for a social cause. It is about spreading awareness about Prostate Cancer and Men's Health." For the past three years, Wanderers Bulleteers of Dehradun have been hosting The Distinguished Gentleman Ride, the first Tier-2 city in India to have this honour.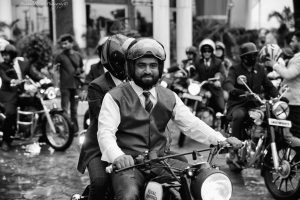 The 15-20 kilometer ride will be flagged off at 7:00 am from Ashley Hall, making its way down the scenic Rajpur road, up Old Mussoorie Road and culminate at the World Integrity Centre. What makes the ride even more interesting it that the riders shed their fancy leather gear and dress up in tuxedos, shirt and tie, three piece suit to ride classic bikes such as Triumph, Royal Enfield, Java, Rajdoot, Vintage Scooters and the likes.
A band performance, with a seminar by Dr. Puneet Arora and an  award giving ceremony under various categories such as Most Distinguished Bike, Most Distinguished Biker, Distinguished lady, Best Couple and so on and so forth add charisma to the one-day event.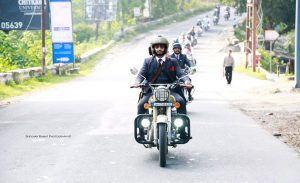 From a hundred participants in the year 2016, the ride has caught the fancy of young and old riders alike. This year round, over hundred and thirty participants have already registered for the event from Dehradun and surrounding towns, with many more expected to sign- up over the next two days.
Riders from as old as 19 year enthusiasts to the oldest being in their 70's, these classic bikers, scrambler, café racers, vintage scooters are already polishing their mean-machines and revving up their engines to add some oomph on the roads of Dehradun with a message close to their heart and minds.