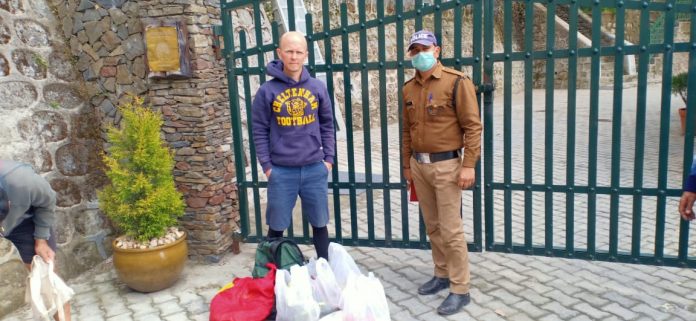 Mussoorie: The Incharge of Landour Police Station and Picture Palace Sub Inspector Suraj Kandari and constable Chandraveer's duties have changed drastically ever since the hill station went into lockdown mode.
Of course from 27th March they have enforced a strict lockdown. But at the same time, Suraj and his one-man team have been ferrying free home-deliveries of fruits, vegetables, milk, medicines, groceries and helping with Home Services like mobile recharges, plumbers, electricians or whatever a householder requires from time to time.
Over the past week, these men in khakhi helped along by the Mussoorie Traders have ensured that all calls have been attended to and all parameters, satisfactorily met.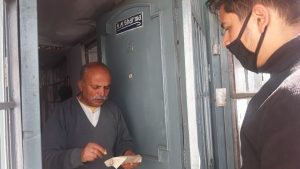 "In the past four days we have delivered close to 125 deliveries to people spread over a radius of 12-15 kms," Suraj Kandari tells me.  Adding, "we receive close to 50-60 calls a day, we put three or four orders together and then within two hours these packets are home delivered to the needy."
As the one-day dovetails into the other, the numbers of phone calls on the hotline number are on the increase. So are the relentless efforts of these men in khaki.
"Mostly elderly people are unable to leave home during relaxation hours, and they rely entirely upon us for these services, " Suraj tells me. "All I have to do is make sure that not a single call goes unanswered.'
Surely what these youngsters are now doing is so far removed from what they were trained for. But stepping into this new role gives them a sense of community, contentment and the sheer joy of helping those in need.
Mussoorie Home Delivery Hotline – 7300-686-294
Orders can be placed between 7 am – 11 am for same day delivery.
Orders post 12 noon will be delivered the next day.
Police department does delivery.
Delivery is Free of charge during the lockdown period.
We accept cash, but also take PayTM. The PayTM can be done to the delivery person itself.