Nainital: Aepan, Aipan or Alpana, is a traditional art form which has been handed-down by mothers from one generation to the next and still holds a special place in the Kumaoni household.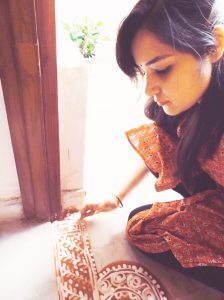 Today, this way of the ancients is being kept alive by 34-year-old Savita Joshi who grew up in Haldwani, Uttarakhand and is now settled with her family in Gurugram.
Doctorate in Botany, Savita is a Senior Research Fellow as well as a freelance Research Paper Reviewer with over fifteen national and international research papers published under her name, along with being a full-time mom to a two year old.
And when all that isn't keeping Savita busy, it is her passion to sustain the age-old tradition of Aipan, an art handed down by her grandmother, and then her mother, which gives her ultimate peace and contentment.
Telling us more about it, she says, "while surfing Instagram I came across artists who had showcased their traditional art and craft. Some were using their fingers as a paint brush dipping it in rice paste, which is very similar to Aipan, but there was not much on Uttarakhand and Aipan, which made me start my Instagram handle on Aipan designs."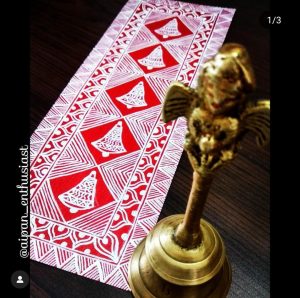 And since then, Savita hasn't looked any further. Today, thanks to talented artists like her, this popular ritualistic art form has got a fresh lease of life. "I never thought that Aipan would have such a fan-following. My Aipan designs are appreciated in home and abroad. I also get customized design ideas on my Instagram and Facebook page." "Some designs such as Aipan Lakshmi Padchinha and Aipan Diya make excellent co-corporate gifts," she adds.
Traditionally, Aipan were designed around places of worship inside and outside homes; doors and entrances, around Tulsi plants using Geru (red earth soil) and rice paste i.e. red background with white designs either geometric or tribal or inspired by nature, using the last three fingers of the right hand.
Today Aipan designs such as Aipan chowki , Janaoo Chowki, Namkaran Surya, Saraswati, Lakshmi Peeth, Jyoti Patti, Shiv Shakti Chowki are an all time favorite with Savita's clients which are designed by her on paper, along with diyas, coasters, trays, pots and planters, bookmarks and puja thaals etc.
In the near future, the artist would like to hold Aipan workshops around the country to share her talent with the next generation, so that Aipan Padchinha continues to welcome friends and family, into their hearts and homes, forever.