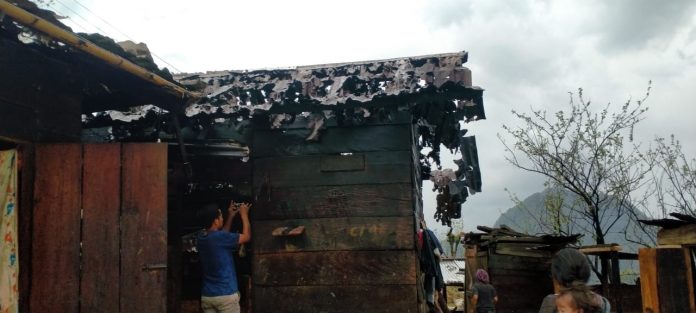 Dateline Nagaland: Feel-good images and write-up of how nature is rebooting itself during the Covid lockdown are to be seen all over the place. But on the other hand, in far off northeast, some ten villages in Nagaland are struggling in the face of Nature's fury – 'all tooth and claw.'
In the afternoon of April 21st, for close to half an hour, hailstones – the size of table tennis balls – battered five hundred homes in ten villages in the heart of Nagaland.
Such was the sharpness of this unrelenting hammering that they destroyed agricultural fields and shredded corrugated tin roofs within minutes.
Village Salomi was amongst the worst hit and the gigantic hailstones left behind havoc in its trail. Shelimthong, Yimchunger Tribal Council Executive Chairman, spoke to Newspost about the widespread devastation: "This is the first time in our lifetime that we came across nature's fury lashing our villages. Over five hundred families have been affected in villages, namely Penkim Salomi, Khongsa Town, Pungro Town, Pungro village and others."
The only saving grace was that there was no loss of life! Meanwhile, the standing crop of maize and the seasonal cabbage and cauliflower have been entirely wiped out. The tragedy is that these are the only source of income to most of these households.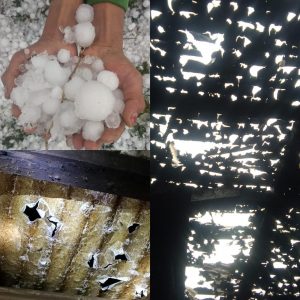 Shelimthong and his team have made rounds of the affected area. They have, "Submitted the documents with estimates to the State government in the hope of getting some relief very soon."
Ever since the disaster, the State administration has swung in action and has been working on a war footing. It is their fervent hope that no stone shall be left unturned, as they try to repair the devastation as soon as they can.
Within three and a half hours of the tragedy, the State administration, led by the Additional Deputy Commissioner of Pungro, Abhinav Shivam, arrived at the site with relief materials like food and tarpaulin to make sure that families donot spend night out in the open and have something to eat, until life comes back to normal.