Dateline Dehradun: Valley of Words, Literature and Arts Festival, in collaboration with Shourya India, successfully hosted a captivating book discussion  on 'The Rise of the BJP' written by Honourable Union Minister Bhupender Yadav at the Vow Cafe-Library-Studio-Gallery.  The houseful event witnessed an engaging dialogue on the journey and achievements of one of India's most influential political parties.
Authored by Bhupender Yadav, Member of Parliament from Rajasthan, 'The Rise of the BJP' offers readers an exclusive glimpse into the inner workings of the party, its decision-making processes, implementation strategies, and policy execution. The meticulously researched book delves into the BJP's struggle against rival ideologies and political challenges, ultimately propelling it to the forefront of national politics.
Speaking on the occasion, Union Minister Bhupender Yadav stated, "I am thrilled to witness such an enthusiastic response to 'The Rise of the BJP' and to engage in a meaningful conversation about the party's evolution. This book aims to shed light on the BJP's relentless pursuit of progress and the transformative initiatives it has spearheaded. It is an honour to share this narrative with the readers."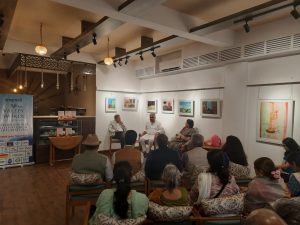 The hour long session was moderated by Dr Sanjeev Chopra, a renowned Policy Analyst and Former Director of LBSNAA (Lal Bahadur Shastri National Academy of Administration) and the Festival Director for Valley of Words, International Literature and Arts Festival  Mr. Chopra's expertise in public policy and administration added depth to the conversation, ensuring a thought-provoking exchange of ideas.
Sanjeev Chopra expressed, "The books makes for interesting read. It is  a privilege to moderate the book discussion on 'The Rise of the BJP.' The book offers valuable insights into the party's strategic decision-making process, ideology, and impact on India's political landscape. The engaging discussion today has further enriched our understanding of the BJP's rise to prominence."
Dr Surekha Dangwal, Vice Chancellor Doon University, the Lead Discussant for the event, provided her scholarly perspective on the BJP's growth trajectory. As an esteemed academician, her observations and analysis offered a comprehensive viewpoint on the subject matter.
Surekha Dangwal shared her thoughts, stating, "I commend Bhupender Yadav ji for penning this insightful book that chronicles the BJP's journey. The discussion today highlighted the party's ability to navigate challenges, adapt to changing dynamics, and emerge as a powerful force in Indian politics. It was an intellectually stimulating conversation, and I believe this book will contribute significantly to the political discourse in our country."
By invitation-only event people from all walks of life connected with the written word participated. The event served as a platform for engaging dialogue, where attendees gained valuable insights into the BJP's historical development and its impact on Indian democracy. The event exemplified Valley of Words (VoW) and Shourya India's commitment to foster intellectual discussions on crucial political subjects.