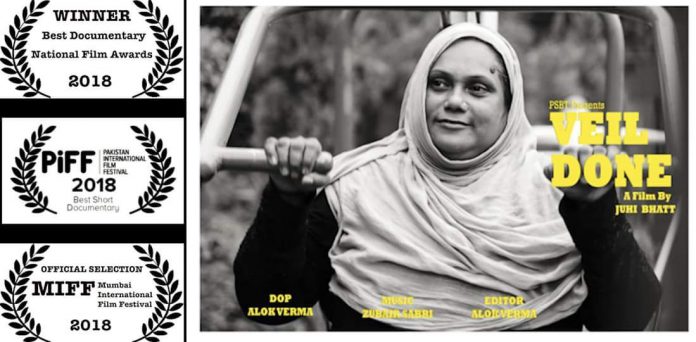 This National Award ceremony had good news for Uttarakhand as well. One of its daughter's, with ancestral roots in Pithoragarh Juhi Bhatt won the 'Best Film on Social Issues' National Award for her maiden mainstream documentary 'Veil Done.'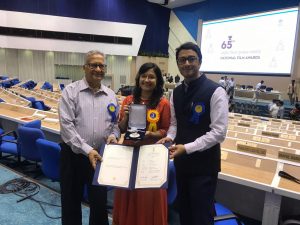 The 30-minute documentary was shot over a period of ten days, in the overcrowded area of Nizammudin Basti in New Delhi. Talking about the shoot, Juhi tells us, "I chanced upon the idea from a newspaper article and filmed the documentary on the lives of three middle aged Muslim women struggling to find their own voice and making independent choices."
"Veil Done' was chosen from 166 short-films shortlisted for the coveted National award. In early March this year, 'Veil Done' was also adjudged the 'Best Shoot Documentary' at the Karachi International Film Awards," stated Juhi's proud father, Retired Inspector General of the Indo Tibetan Border Police MC Bhatt who along with her brother Jayant Bhatt who were by her side when Juhi received the Award.
Bitten by the 'Directors bug' at an early stage, Juhi completed her Mass Communication Degree from Jamia Milia Islamia Institute, New Delhi and after a brief stint in Delhi, she moved to Mumbai, the-land-of-possibilities.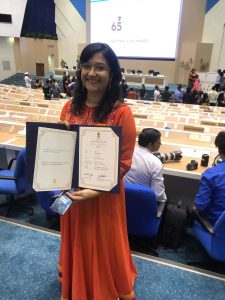 While in Mumbai, Juhi worked in advertisement world and made couple of documentaries/short film for NGOs, lifestyle shows for the past nine years, but her first love was documentaries and that too on women and social issues.
On receiving the National Award, an elated Juhi says, " It means a lot to me to get this award for my maiden documentary. I was overwhelmed and its great when your work gets recognized on a national platform as all you want is for your work to be shared with as many people as possible, I couldn't have asked for a larger platform."
 As we sign off, Juhi adds, "I am looking for suitable subjects in Uttarakhand as well, for I feel that the region isn't being showcased as it should be, and I am sure there is a story there being waiting to be discovered."
We wish her all the very best in her future endeavours.