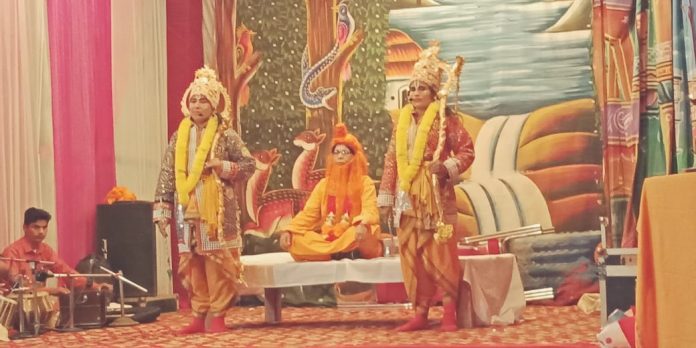 Chamoli: Women between the age group of 9 to 54 years old are creating history in Uttarakhand. Coming together from five hill-districts they are making their mark on a creative platform. Maa Nanda Ramleela Manch an all-women theatre group is enacting Ramleela, which has for centuries been considered as a traditional male domain.
Five years ago, Maa Nanda Ramleela Manch a dream-child of Lakshmi Shah, Aarti Gosain and Beera Pharswan came into existence and is now making waves in the interiors of Garhwal.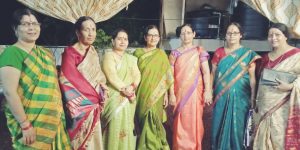 What started as snippets from the Ramayana and regional folk stories such as Ma Nanda, Savitri, Tilu Rauteli and Angad-Ravan Samwaad being performed by the all-women troupe in various village fairs, they gradually started garnering support and fame, and has to-date witnessed four, eleven-day Ramleela.
Beera Pharswan, one amongst the three who started this initiative, remembers with nostalgia the first Ramleela they staged at a wedding point in June 2017, in Agastyamuni. "When we first started this initiative, we never dreamt we would reach this height. We faced a lot of difficulties and opposition, but we grew stronger and more motivated with every woman who joined us, from 3 to now 35, is how we have grown in numbers."
And the rest as they say is history. Lakshmi Shah, a teacher by profession, and a mother of two tells us, "We are trying to give middle-aged women, housewives a platform where they can showcase their hidden talent. Except for the role of Hanuman, (which village elders objected to being played by women) all the other characters of Ramayana are played by us."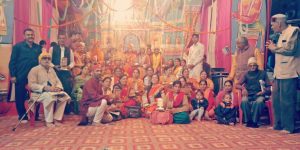 The Director and actors have found a way to work out the distance and the busy schedule of all the characters. They make sure that their jobs and household chores are not ignored at the cost of rehearsals.
Multi-talented Lakshmi Shah, who has been the Cultural Secretary of HNB Garhwal University, can play the role of Sumanta or Sabri or Kevant or Ram, with graceful ease.
The 35 women actors spread across five districts from Almora to Chamoli onto Rudraprayag, Pauri and Tehri, translating Bhavani Dutt Joshi's Ramleela on to the screen, hasn't been easy. Lakshmi recalls, "my husband a lawyer by profession was aghast when I was to play the role of Sita. He sent my daughter to talk me out of it, but I did not relent," But all that has changed, " today he is my biggest support. He saw what this meant to me and how encouraging our women elders of the village were."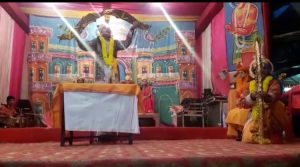 Dr. Dataram Purohit who set up the Department of folk performing art and culture, in Srinagar, Garhwal. And has been archiving and propagating Garhwal's rich tradition with courses like theatre, folk music and folk forms speaks with a visible sense of pride, "Maa Nanda Ramleela Manch is making their place in the creative world. This is a 180degree role reversal and is a positive sign that our womenfolk are coming into their own." Adding, "There is a renewed sense of awakening and coming of age, which is very heartening to see."
Like any other theatre group, Maa Nanda Ramleela Manch has one more dream to accomplish and that is to perform live in Mumbai in front of none other than Superstar Amitabh Bachchan himself. Lakshmi speaks for the entire troupe when she signs off, "Dreams come true for those who dare to dream." And who are we to doubt!