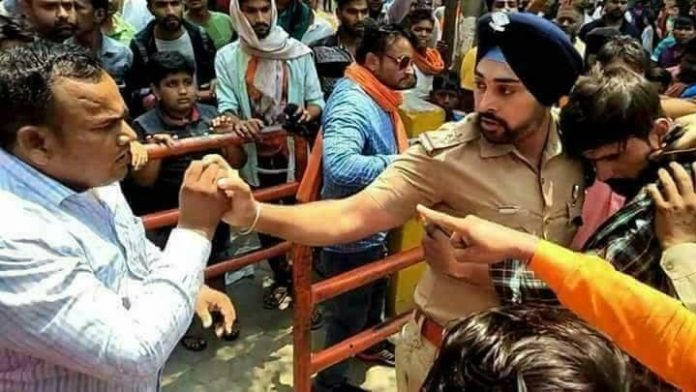 This story could be  anywhere in India when the Middle Ages meet the Millenium and sparks fly. Four young people, three boys and a girl on a picnic near a temple in Girijia, some 15 kms from Ramnagar in District Nainital, Uttarakhand. Things turn ugly as some locals take umbrage at the youngsters turning the temple into a picnic spot. One boy  and  a girl  are singled out and asked uncomfortable questions.
The mob turns ugly, starting to rough up the boy. But this is where there's a twist to this sad tale. Here in one of Uttarakhand's wayside temple town, a young police officer, 27 year old Sub-Inspector Gagandeep Singh intervenes. He shields the hapless boy from the crazed mob, and in the process takes a few  blows from the crowd.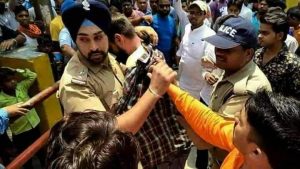 A short video clip of the incident which happened in broad daylight on the 24th of May has gone viral. Regaling the young Sikh Sub-Inspector Gagandeep Singh, turning into a knight to the rescue, in the face of a primitive  lynched  mob, he simply says:  "I was just doing my duty, I have been trained to protect and save anyone who comes to us for help and I did just that, " says a media shy Gagandeep.
Happy with the way things panned out,  SSP Nainital Janmajai Khanduri has announced a cash reward for the brave policeman : "This young officer has stood as a perfect example of the police force which is hard to come by in given the circumstances, this reward is but a token for his good deed."
"A case is being registered against those lynching the young lad, we are taking details of the people present through the video which was circulated on social media," Vikram Rathore SHO Ramnagar tells us who too was present when the unfortunate incident took place, further stating that the mob comprised of members of Bajrang Dal. Now that doesn't seem to be much of  a surprise anymore!
See the Video here: