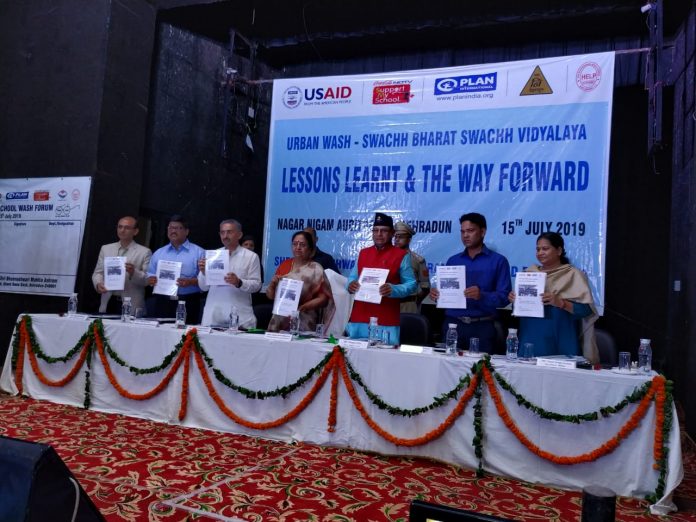 Dehradun, The U.S. Agency for International Development (USAID), Plan India, Coca Cola India and Shri Bhuvneshwari Mahila Ashram (SBMA) hosted a half-day-long event to celebrate their three-year partnership under the Swachh Bharat Swachh Vidyalaya (SBSV).
Honourable Governor Madam, Baby Rani Maurya, Sunil Uniyal Gama – Mayor Dehradun, MLA Khajan Das, Anand Rudra Senior Advisor WASH (USAID), Dr. Nabaneeta Rudra, Senior Technical Advisor – WASH (Plan India) and Gyan Singh Rawat, Secretary (SBMA), were key participants at the event.
The 'Urban WASH – Swachh Bharat Swachh Vidyalaya' aimed at promoting sanitation, effective use and ownership of school Water, Sanitation and Hygiene infrastructure in 60 schools spread across three cities i.e. Vishakhapatnam, Pune and Dehradun. SBSV engages school children and contributes to the Swachh Bharat Mission, a Government of India initiative.
In the SBSV Dehradun project, around 7000 girls and boys have gained access to potable water, safe sanitation, capacities of 20 teachers, 328 School Management Committees (SMCs) members, 320 BSS members and four communities have been enhanced for sustainable WASH.
Honorable Governor Madam laid emphasis on the importance of the WASH in School in making the environment conducive for children to become sensible citizens of the country. Mayor, Sunil Uniyal Gama applauded the WASH in Schools initiative in the SBSV schools and assured his support for scaling up in other schools.
The project is moving towards complete self-reliance with support of the City Corporation, Education Department and the Private Sector in the months to come.