Nainital, 22-year-old Poet, Apoorwa D Karnatic has roots in Mukteshwar, Nainital. It is here, her home in the hills, that Apoorwa found her true calling, poetry.
A final year Mass Communication student from Galgotia University, Apoorwa captured her feeling in words and composed her first poem in 2007 when she lost her Grandmother.
"Whenever I feel a strong connect with an event or an issue, I put pen to paper and string words together. At times, all it takes is half an hour to express myself in words," Apoorwa tells me over the phone. For years now, the young talent has been composing poetry on issues faced by the hill-state and its folks.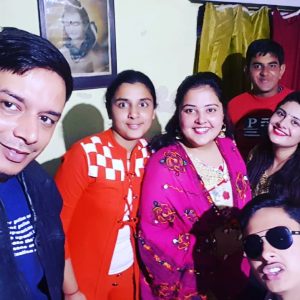 Kahani Palayan Ki, HitMyarPahad recited by Apoorwa at an Open Mic organised by Poem & Kahaniya was  appreciated by the audience. It gives a glimpse into the written magic that the poet weaves about her home state and has an instant connect with the audience. Apoorwa talks about important, need of the hour topics such as Responsible Tourism " adds Raman Shelly who happened to hear the young poet at the gig.
Apoorwa's annual summer visit to her home in the hills made her empathise with the hardships of hill folk. She has seen how despite adversities, these brave people, do not give it up, instead "they keep moving forward with a certain resilience and a smile on their face." Her next compilation, 'Happy Pahadan' to be released in the coming January 2020, is about that.
In the near future, once her final year is behind her, Apoorwa plans to continue her illustrious poetry career but take up pertinent issues on ground too.
Hygiene and sanitation amongst womenfolk is what I want to address Apoorwa shares with us. It is here, amongst her people, that her heart and mind reside and finds her true inspiration to weave magic with words.