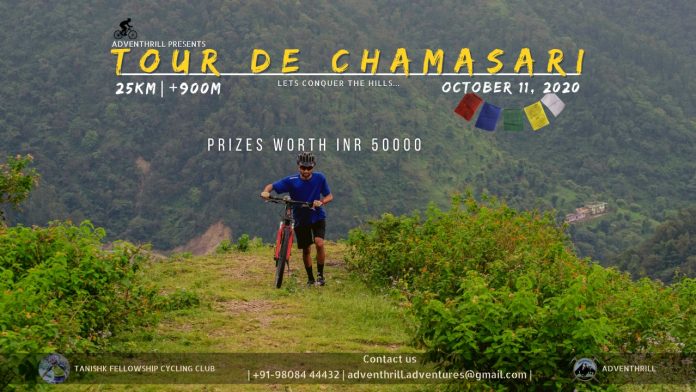 Dateline Dehradun: Cycling enthusiasts across the country might want to block 11th October 2020 on their social calendar to take part in the annual cycling race being hosted by Adventhrill.
On a first come, first serve basis, there is limited entry to this much-awaited cycle race in the hills of Uttarakhand, for which the registration procedure began yesterday.
The 25 kms uphill race will be flagged off from Maharana Pratap Chowk, Raipur, Dehradun on the 11th of October. The participants will ride through an off-beat scenic yet challenging terrain with a cut off time limit of 2 hours.
The organizer Vijay Pratap makes it very clear, "Only MTB cycles are allowed. Cyclists are advised to carry their ID proof, personal safety gear, puncture kit, pump including Helmet which is compulsory for all cyclists, 'No Helmet, No ride' is the safety mantra for Tour De Chamasari."
While there is no age limit  for women participants, there are three categories for Men: 14-20 years junior category, 20-40years senior category and 40+ in masters.
For participants from in and around Dehradun, the Registration fee for the race is a nominal 1500/-. For cyclists participating from outside the State, the organisers have put together a package of 3500/- including one night stay, two meals and registration fee.
Keeping in mind the growing pandemic, necessary arrangements for COVID-19 prescribed by state government such as backup vehicle, Thermal scanning, Hand wash / sanitizer will be made readily available. In the eventuality that the race is cancelled due to government restrictions to contain the spread of Covid-19, participants will be given the option to carry-over their registration for the next race.
"Only cyclists who reach the finishing point within the cut-off time will be eligible for medals and certificates, and the top three positions in each category will be felicitated with the Tour De Chamasari Trophy," Vijay Pratap signs off.
Event: 'Tour De Chamasari'                                                                                            Date: 11th October 2020
Registrations Open: 5th September 2020                                                                     For more details: Contact +91-9808444432/
[email protected]