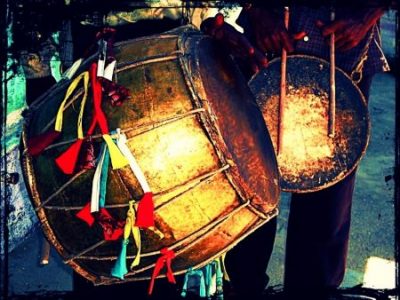 The meaning of life it to find your gift. The purpose of life is to give it away
:Pablo Picasso
And that is exactly what 55-year-old Sohan Lal the drummer from Pujargaun a village in Tehri district has been doing. An art form passed down from one generation to the other, Sohan learnt the art  of playing the dhol/drum from his father Granthi Das.  "Without any formal training we are all amateurs, spluttering, unsteady and muddled! But with dedication and practice I have learnt a few things," says Sohan Lal today.
Once a common sight and sound in Garhwal, especially during festivals. Today a vanishing art form:  Dhol and Damaun  have been an integral part of every ritual, ceremony and festivity in the hills. Sohan Lal is among a few drummers who have kept the art form alive. Though every village in Garhwal still has a drummer family residing in it. Most of them have all together given up. For there is neither status nor money in this vocation.
Sohan Lal with his tools of the trade the drum around his neck and drumsticks in hand has worked relentlessly on passing on the tricks of the trade to over four dozen drummers or dholis.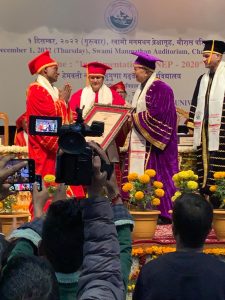 The Department of folk performing art and culture, in Srinagar, Garhwal has tried to archive and propagate Garhwal's rich tradition with courses like theatre, folk music and folk forms imparted by the likes of Sohan Lal, masters in their fields. Prof. D.R. Purohit, has been relentlessly working for over three decades now patronizing drums and drummers:  'We have put in our sincerest efforts to pass on vanishing art forms onto the new generation. We have been training our students by the masters of traditional folk arts themselves, who in turn get an opportunity to show case their talent and get monetary benefits as guest faculty."
He further adds, "A master of 18 beats of Naubaat, 12 beats of wedding and all the beats used in Pandava, Goril, Bagdwal, Disha Dhankudi, Naagraja, and Aachchahri  dances. He has also mastered the narrative singing of all these forms, besides the songs of Narsingh, Bhairava, Nirankar, Chaitvali, Saidwali, Ranbhut, Ghar Bhoot, Gandiyal and many other ritual dance traditions of Uttarakhand."
Today an appointed Visiting Faculty to the Centre for Folk performing art and Culture of Hemvati Nandan Bahuguna Garhwal University to being a Visiting Faculty to Cincinnati University, US, Sohan has reached greater heights. He was recently awarded the honoris causa by Garhwal University.
Amongst the last maestros of this dying art, Sohan Lal is a beacon of hope for the sound of the drum to beat out a rhythm in the hills and valleys of Uttarakhand, for generations to come.