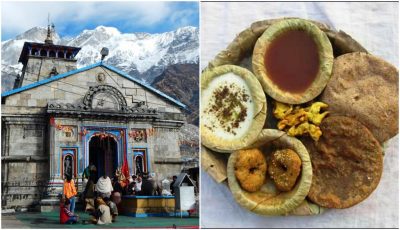 When one thinks of the mountains, one pictures crystal-clear air, blue skies, snow peak mountains, brooks and streams, but we, at times forget that it's the people, their art, culture, tradition and cuisine which makes the mountains as special as they are.
This Chardham Yatra season, District Magistrate of Rudraprayag, Mangesh Ghildiyal is attempting to make it a little more special not only for lakhs of pilgrims who make their way to the 8th century Shiva temple situated at a height of 11,755 feet in the inner recesses of Garhwal every Chardham Yatra season, but also for local small time entrepreneurs and their indigenous produce.
The District Magistrate has made it mandatory for shopkeepers being allotted shops along the Kedarnath Shrine from Gaurikund all the way upto the Kedarnath shrine to serve local produce such as juice and squash made from Amla, Malta and Rhododendron (buraas) to refresh and revive tired souls and feet of pilgrims as they begin their pilgrimage on foot.
Further more, the District magistrate has made an appeal to hotels and restaurants that dot the country-side enroute to Kedarnath that they should include a Garhwali cuisine menu for their customers such as roti, gait ki daal, phaada, kadi, jhangoray ki kheer etc so that tourists can get a flavor of what Uttarakhandi food is all about.
The portals of the Kedarnath Shrine will open on the 29th of April this year, and over the next 8-9 months close to ten lakh pilgrims will make their way to the Shrine from both home and abroad. This unique initiative by the district administration will go a long way to ensure that indigenous produce get that much required boost which will in turn bring in money as well as stem migration and for the tourists, they will get a true-taste of the hill-state other than just spiritual memories to take back this Yatra season.