Dehradun, When artists from various spheres join hands to highlight a social issue, everyone tunes in! And adding to that the long list of artists is Uttarakhand's young, dynamic rapper Suraj Tratak rapping to social issues who recently launched his rap song entitled, 'Pani.' A song that highlights what has now been recognised as a universal crisis and has adversely affected the hill-state with 60% of its natural water sources drying up and which according to the CAG report, "Less than 50% of the population has access to adequate quantities of safe drinking water in the Uttarakhand."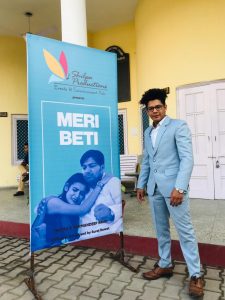 Born on 21st August, 1995 to jot Singh Rawat and Parvati Devi in Mumbai, Suraj Tratak has two siblings, Arjun his older brother and Uday Singh his younger brother who introduced him to the world of music. Not a new entrant to the world of rapping, Suraj's  song 'Pani' released on YouTube deals with water crisis and incorporates lyrics which give useful tips for water conservation. The song has been well received by his growing number of fans not only in his home state but the country and abroad as well.
Talking to Newspost, Suraj tells us, "Being an artist, I have highlighted issues in most of my songs, and now with water crisis becoming a reality not only in Uttarakhand but all over the world,  I wanted to compose a song on water conservation to spread awareness. The lyrics to the song were composed in 15 minutes flat!" He adds with much aplomb.
An artist  who wears many hats, Suraj is a singer, actor, songwriter as well as a director, who has his roots in Sondhar village, Khaspatti Tehri Garhwal, but has made Dehradun his home, for the past fifteen years. A graduate from Petroleum University, Dehradun, Suraj went on to do his PG MBA, from  Graphic Era Hill university, but his true calling was music. Since 2013, Suraj has composed songs both in Hindi and Garhwali on prevalent social and spiritual themes, both close to his heart such as Beti Bachao, Beti Padhao to Pani Bachao. His forte has been the fact that he has highlighted pertinent issues through his songs and given them a suitable platform.
The young talent has composed a song for world spiritual leader Sadhguru Jaggi Vasudev and has been deeply moved by the teachings of Rajnish Osho, Gautam Buddha, Kabir and Vivekananda whose teachings have been the inspiration for his first music album launched in 2020, 'Supreme Consciousness.'  Following year i.e. 2021, he went on to launch his second album 'Painey Pahadi,' dedicated to his Garhwali roots.  Suraj has also represented Uttarakhand in international platform such as TedX along with Ankit Chamoli a Beatboxer.
His song, 'Pani' put forth water conservation awareness in a foot-tapping rap beat to Suraj's voice and lyrics making it an interesting audio clip for everyone to hear.
For those who haven't yet tuned in, here is the link to the song:
To know more about this young talent, tune in:
https://www.youtube.com/c/SurajTratak
https://www.facebook.com/surajsinghrawatrapper