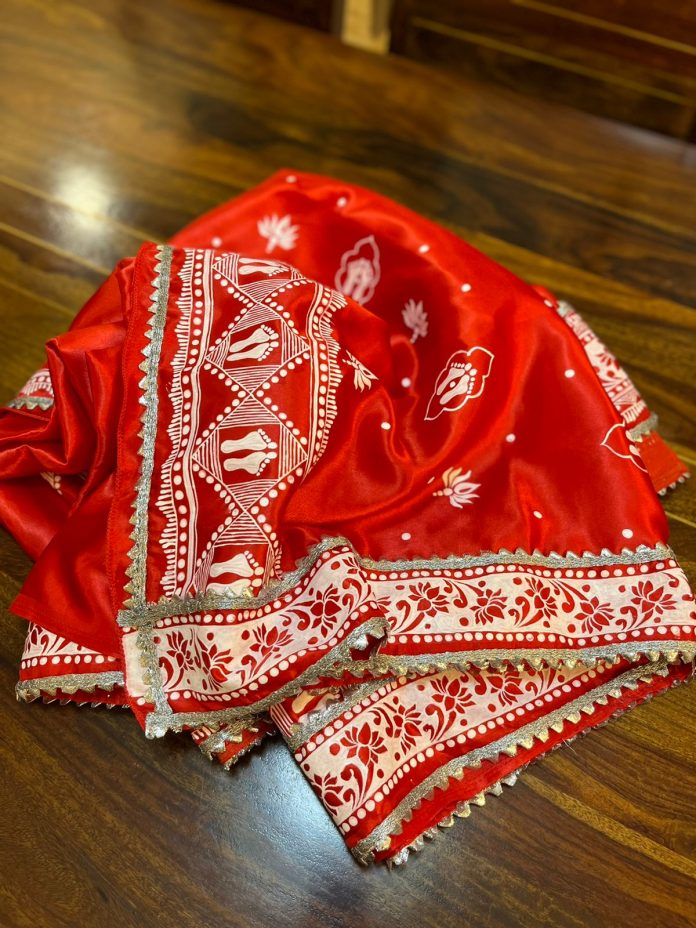 Dateline Pithoragarh: You cant buy happiness but you can buy the whole six yards of Aipan art work to add elegance and a part of heritage to your wardrobe.
Deepika Chand an Aipan artist who hails from Pithoragarh district of Uttarakhand is doing just that. Self-motivated, hard-working and disciplined Deepika completed her Diploma in Fashion Designing from B.S Negi MPPS Women's Polytechnic in 2013. She worked as merchandiser in garment export house in Delhi and Noida before her love for Aipan a ritualistic folk art, native to the Kumaon region of Uttarakhand and her roots took her back to her home district.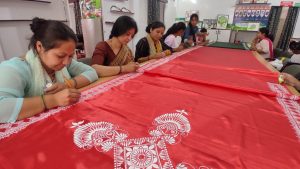 "My love for art: be it Aipan, painting or any kind of handicraft started from an early age. I enjoyed adding colour and imagination to everything around me," she tells us over the phone.
Taking her passion forward encouraged by a dotting husband and the district administration, Deepika with a set of trained Aipan artists designs Aipan saris with traditional motifs of Shri Pada, Padma Lakshmi and more product variations are in the pipeline.
Packaged and marketed by HILANS, Kuldeep Bist adds, "This is a humble attempt by the State administration and a set of dedicated women Aipan artists to showcase the art form on the whole six yards and put it on an international platform. Pithoragarh has GI branding for Aipan and we are making sure that we explore more such products and make women financially independent."
Starting with traditional hues of ochre, white and green the team visualises working on multi-colour fibres in the near future. "This is a work of patience and creativity. It  takes us anything between 4-5 days to complete a sari as team but over ten days to do it single-handedly. It all depends on the design and detailing it entails."
Priced anywhere between twelve to fourteen thousand, these saris are an heirloom which can be customised on satin or silk according to the client's requirements.
For orders call: +91 9058064492 (m)