Dateline Pithoragarh: Come July and the indigenous Bedu or Anjeer or Himalayan-fig trees are laden with fruit ready to be picked and processed. Found in hundreds of quintal in Pithoragarh district this organic fruit locally called Bedu is now being marketed in a brand new avatar: "Pahari Anjeer."
The local administration under the vision of District Magistrate Dr Ashish Chauhan has given 'Bedu' an interesting twist. The fruit is now being used for commercial production of  jam, chutney and squash and plenty more bottled variants in the pipeline.
Prepared jointly by employees of Agriculture, Horticulture Department and Integrated Livelihood Cooperation Project,  labelled under 'Pahari Anjeer' these finished products are being marketed through HILANS in Uttarakhand.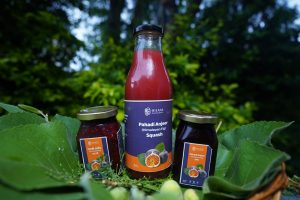 So how did the present District Magistrate come up with the idea, Dr Ashish tells me, "A few weeks back I had  Bedu for the first time and I loved it. It dawned on me as to how we were loosing an opportunity of processing this indigenous fruit found here in abundance in Uttarakhand. Within a short span we had it processed into jam, chutney and squash. 'Pahari Anjeer' has managed to penetrate the market and is economically viable."
The fruit has been found beneficial for diseases related to lungs and bladder, preventing skin diseases and infections. Rich in medicinal properties such as Vitamin C, protein, phosphorus, potassium, calcium, magnesium, iron etc it is a power-packed fruit.
Dr Chauhan has an interesting line-up of products keeping mind that Pithoragarh alone produces close to seven to eight hundred quintals of fruit every season, giving the administration plenty of scope to experiment with.
For those who want to lay their hands on 'Pahari Anjeer' products can either visit HILANS outlets in Dehradun or will be able to place their order online within a week or so, we are assured.
Order online:
Hilans Himalayan Fig (Bedu / Pahadi Anjeer) Jam