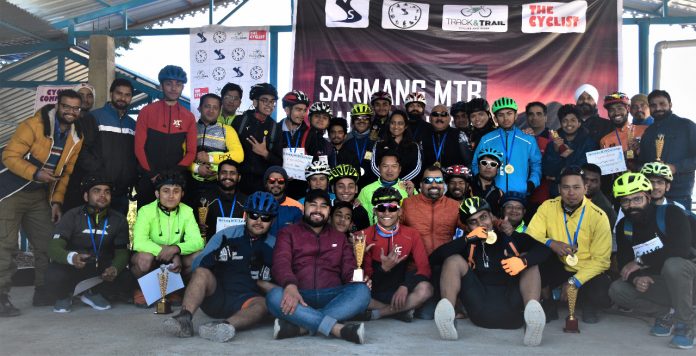 Dehradun, To promote mountain biking in Uttarakhand, a cycle race Sarmang MTB Challenge, Kimadi was organised today morning by Sarmang Adventure Tours.
45 riders from various parts of India such as Mumbai, Jharkhand, Uttar Pradesh and  the home state participated in the cycle race which started at 6:30 a.m. from Parade Ground and reached Kimadi via Purukul. The cyclist rode through Kwality Chowk – Dilaram Chowk – New Cantt Road – Supply – Bijapur Bridge – Gajiawala – Chandroti Bridge – Purkul – Bhitalli Village and came to a stop at Kimadi village.
Despite  the terrain being both uphill and challenging, there were no quitters!
Winners under various categories were:
Under 18 Years: Pranav Panwar, Rakshit Joshi and Shobhit Negi
18-30 Years Vijay Pratap Singh ,Lakhvinder Singh, Prasad Vijay Shetty
31-45 Years Manoj Malla, Ashok Limbu and Balwant Chhetri
45-60 Years Sohan Singh Rawat and Alok Chhetri
Under the female category: Anjali Bhandari Simmi Pardal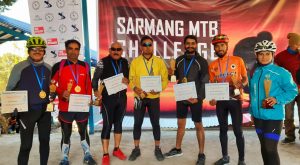 All the participants appreciated the  format of mountain cycling and wished to see more such races in Uttarakhand, as they all felt that the hill-state had potential to promote and conduct Mountain Terrain Cycling.
The event was hosted by coach Naresh Nayal,  Alpi Gulati flagged off the race and then Alpi Gulati and Jagjit Singh awarded trophies to winners. Medal and certificates were awarded to all those who crossed the finishing line.
The organising team included Anil Mohan, Arjun Singh, Ravinder Singh, Deepak Banthwan, Amit Bhetwal, Vikesh, Jagjit Singh, Manik Verma, Palak Verma, Jitu Kaithait.