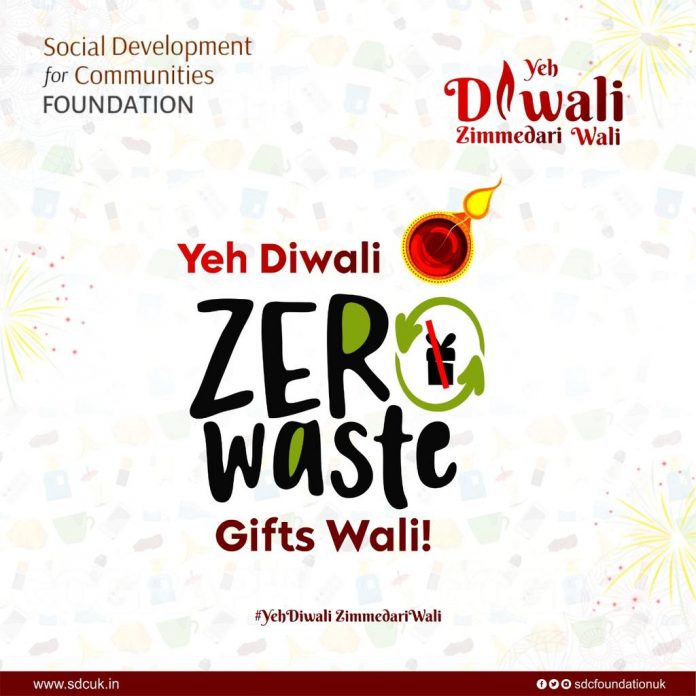 Dateline Dehradun: Doon based Social Development for Communities Foundation has launched a special campaign on the occasion of Diwali titled 'Yeh Diwali Zimmedari Wali,' encouraging responsible shopping and minimizing waste generation.
The campaign encourages everyone to engage in practices of reusing and reducing the waste specially during the festive week. The campaign also highlights how COVID-19 has forced us to rethink the way we interact with nature and realign our lifestyles with the environment.
Major themes like plastic waste, food waste, cloth waste and rising consumerism, reuse, recycle, responsible purchasing during the festive season will be highlighted in the campaign.
"COVID-19 has forced us to rethink and change our habits. This campaign is very basic yet extremely significant. It encourages all of us to make more sustainable choices in our lives. The food we are eating, the materials that we are purchasing and the waste we are generating; all of it has a carbon footprint and an impact on our local economy. Through this campaign we aim to educate people and empower them to make green choices and benefit the nature and local ecosystem", said Anoop Nautiyal, Founder, SDC Foundation.
The campaign is aligned with Sustainable Development Goal 12 which talks about "Responsible Consumption and Production". Tips to reduce waste generation at the household level, reuse old articles, tips to minimize use of single use plastic and how to shop responsibly will be shared. Posters, videos, storytelling, polls and surveys will spread the word. The campaign offers a choice for transforming lifestyle into a more green and lean manner.
"We want people to do away with this modern times take, make and waste culture. We want people to do as much reuse and reduce as possible at their individual level. During festivals, we often indulge in unnecessary shopping. All of this has an impact on natural resources. So, the more we indulge in responsible shopping, less pressure will be on natural resources and the environment will be less polluted", adds Rishabh Shrivastava, Lead – Public Policy and Communications, SDC Foundation.