Dehradun: Snakes and monsoon seem to be synonyms. Sighting these reptiles in residential areas of Dehradun is a common occurrence nowadays. It is in times like this that a Quick Response Team a.k.a. Snake-Catching Squad of the Uttarakhand Forest Department swings into action.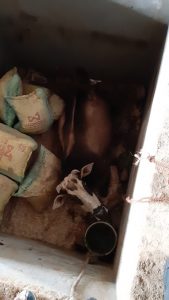 Two years ago, the Forest Department set up two Quick Response Teams, consisting of four people each, who were passionate about animal rescue. And they came together to rescue and relocate animals in distress. Since then, this efficient team answers half a dozen calls a day. They work on war-footing, rescuing and relocating countless wild creatures and brings within the ambit domesticated animals like cows, bulls, dogs, pigs and the more so ever, snakes.
Every morning, the team equipped with tongs, sticks, gloves, pipes and a bag including a First-Kit-Aid, get into their Bolero and head out to answer calls from scared residents. Out to rescue a cow fallen into a pit in Balawala, Dehradun, Team Leader Ravi Joshi, tells us more, "We get maximum calls for snake rescue throughout the year, but June to September is peak season when we get close to 5-6 calls a day to catch snakes ranging from King Cobras to Russell Vipers which we then release into the core area of Reserve Forests."
With the longest fourteen feet King Cobra rescued from Clément Town to a thirteen feet long Rat Snake from Vasant Vihar, the team has seen them all. Ravi further tells us: "Spectacled cobras are found in ample in Balawala; Russell Vipers in Sahastradhara and Garhi Cantonment; Rat Snakes and Water Snakes infest Vasant Vihar and Patel Nagar area, but don't fear these reptiles, as long as you leave them alone, they will stay out of your way."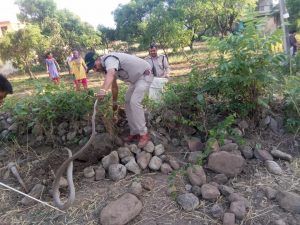 Senior Journalist, Raju Gusain who recently availed the services of the Quick Response Team when he sighted a snake in Deep Nagar, is full of praise, thanking the team Raju says: "They are quick to respond, professional and effective in their action."
With the monsoon recently making its presence felt in the Valley, the work of the Quick Response Team has only just begun. Perhaps the Forest Department should think on lines of increasing man power in the squad too.
Should you need to avail their service:
Call: 108/0135-2741630 (Forest Department Headquarter)