For the third time in eighteen months, Prime Minister of India Shri Narendra Modi will be visiting Kedarnath, this time on the auspicious occasion of Deepawali the Festival of Lights.
Chief Minister  Trivendra Singh Rawat reviewed the preparations for the Prime Minister's visit at CM residence and directed concerned officials to make foolproof arrangements.
With snowfall in the area, it has been an uphill task for those who have been continuously removing snow from the path leading from the VIP helipad to the shrine.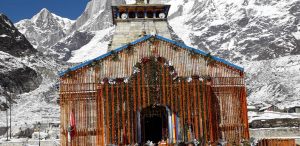 It is believed that Prime Minister Modi will reach Kedarnath at 9:45 a.m. tomorrow morning.  Sources inform us that Prime Minister will be spending close to two hours in Kedarpuri, with a back-to-back schedule beginning with performing puja and paying obeisance to Lord Shiva in the temple. Post this Prime Minister will personally examine the ongoing reconstruction work being carried out in Kedarnath since he last visited the temple. A video presentation related to construction work will also be projected in the guesthouse located within the temple premises.
Recent snowfall and flowers brought in specially to decorate the age old shrine has added more charm to the landscape of Kedarpuri, a town, famous for the 8th century Shiva temple, leaving its most skeptical of pilgrim, spell-bound.