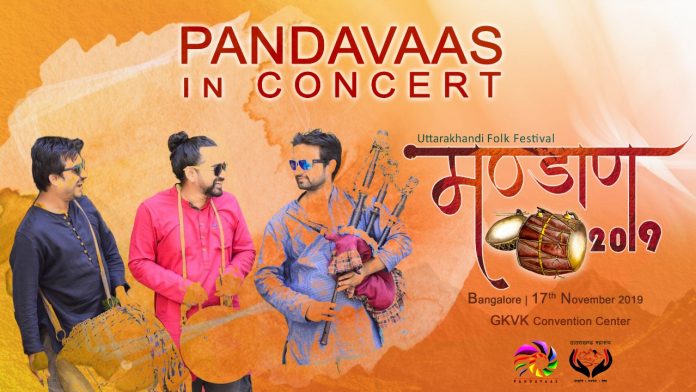 Pandavaas of the Time Machine fame will be holding their debut live-performance at Mandaan 2019, Bengaluru on the 17th of November.
With an interesting medley of songs under their belt Salil, Kunal and Ishaan Dobhal are all set to give their first performance to their fans, down South.
Speaking to Newspost, an excited Kunal fills us in, "we have always been portrayed as a Production House, and rightly so! But Anoj Joshi invited us to put on a stage show which was hard to resist, and I am sure after this show, everything will change for Pandavaas, for the better."
Team of 20-25 artists from all over the hill-state have been putting in hours of rehearsals in Dehradun, to give that unforgettable performance.
So what can you expect from their maiden performance, Kunal tells us, "The two-hour programme by Pandavaas is being tailored made for their fans. What we are working on is an unplugged session, something similar to a Coke Studio Session for Bengaluru. Maangal geet, the complete series of Time Machine, combining folk and fusion is being experimented with."
With passes almost sold out for Mandaan, almost weeks in advance, the one-day event begins at 10:30 a.m. and wraps up at 7:30 p.m, at the GKVK Convention Centre in Bengaluru.
A day prior to this Pandavaas will take part in a discussion with students of Mass Communication at the Symbiosis School of Media and Communication, Bengaluru on the 16th, where their Production House is being studied as a case study from Uttarakhand.
Founder Anoj Joshi of Mandaan, tells us why he chose Pandavaas over other singers, he  replies, "I try to feel the pulse of the youth and see what they want. Pandavaas have done a lot of commendable work which has been appreciated by the young and old and that was the idea of bringing them to Bengaluru."
Pandaavas promise not to let them down.
Music enthusiasts that pride themselves for their technical excellence and perfection, Pandavaas first show will be something that their audience will not forget in a hurry.