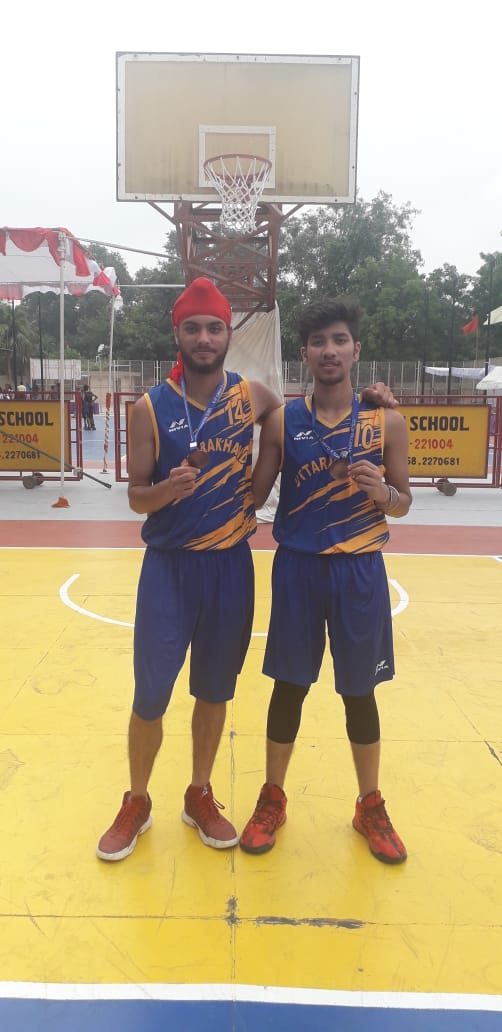 Mussoorie, Two students of Mussoorie's Guru Nanak Fifth Centenary School have made it to the Basketball National Team in Under 19 and Under 14 category respectively.
Student of class XIIth Aman Veer Singh and Ankit Kumar of class VIIIth will soon be participating in the Basketball Nationals in the Under 19 and Under 14 category to be held in Tamil Nadu and Odisha this September. The boys were handpicked from amongst 70 players who played in various tournaments and were selected on the basis of their performance.
Aman and Ankit give credit to their coach Raisuddin Ansari a pass-out from the National Institute of Sports, Patiala, who put in two to three hours of rigorous training on the basketball court, teaching students tricks of the game.

While, Aman Veer Singh 
has in the past represented Uttarakhand Basketball Teams in Sub- Junior and Junior categories in 2016 and 2018 respectively.  He shall now represent Council For The Indian School Certificate Examination (CISCE) Uttar Pradesh and Uttarakhand Regional Basketball Team in CISCE Nationals to be held from 22nd to 27th of September, in Tamil Nadu.  The young player has his goals set as he confidently tells us "I would like to join UCLA in America and will take my game to the NBA, which is the ultimate level for any basketball player."
On the other hand, Ankit Kumar, will be part of the Uttarakhand State Basketball Team in the 46th Sub-Junior (under 14 category) Basketball Nationals to be held in Cuttack, Odisha from 3rd to 9th September. Ankit joined school in grade 6th and has been playing basketball for just two years now, he tells us, "feels great to have qualified in the Under 14 category. I will try to improve my game and play for India in the future," he signs off.
Coordinator, Dalveer Kaur Singh, speaks on behalf of the School and its Management, stating, "Its really great. The joint effort of our coach and the students has brought us laurels in the past and we are sure that they will continue to do so in the future as well."