Mussoorie, Indian Olympic Boxer MC Mary Kom was on a two-day visit to Mussoorie to unwind with her family here. Talking to the press and other gathered dignitaries,  the 36 year old, mother of three sons, stressed on the fact, how this was, "a perfect long awaited family holiday to spend quality time bonding with my young sons before I get busy with the upcoming Parliamentary Session and rigorous training sessions for qualifying for the 2020 Tokyo Olympics."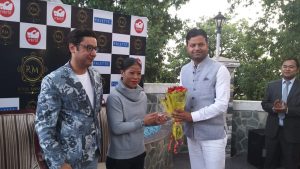 The Member of Parliament, Rajya Sabha made a day trip to Tehri Dam where she took part in water sports and enjoyed the scenic beauty of Dhanolti town, enroute to the Dam. The petite sportsperson spoke of her initial struggle to make it big in the world of boxing and how her latest initiative, the "Mary Kom Boxing Foundation' is now making waves with its young trainees going on to win, " 5 gold medals at Khelo India as well as an International Junior Gold medalist and many national medalists have come from the Foundation," which she says is her post-retirement enterprise, and her way of 'giving back to the nation' by creating more champions in the field of Boxing.
Encouraging young minds who had gathered for a Meet and Greet event at the Hotel Palette Royal Mansion in Mussoorie, MC Mary Kom spoke at length how her, "single-minded pursuit, determination, hard-work andpassion for what was generally seen as a men sports, made her achieve the impossible."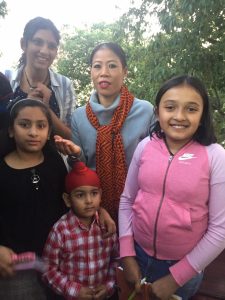 Nicknamed Magnificent Mary, the iconic woman Olympic boxer left an indelible impression on her audience of all ages who were spell bound by Mary's simplicity and passion for a sport in which she aspires to bring back the Gold at the 2020 Tokyo Olympics, a dream the sportsperson holds close to heart.
We, the residents of Mussoorie, are convinced that this time round, MC Mary Kom shall not let us down.