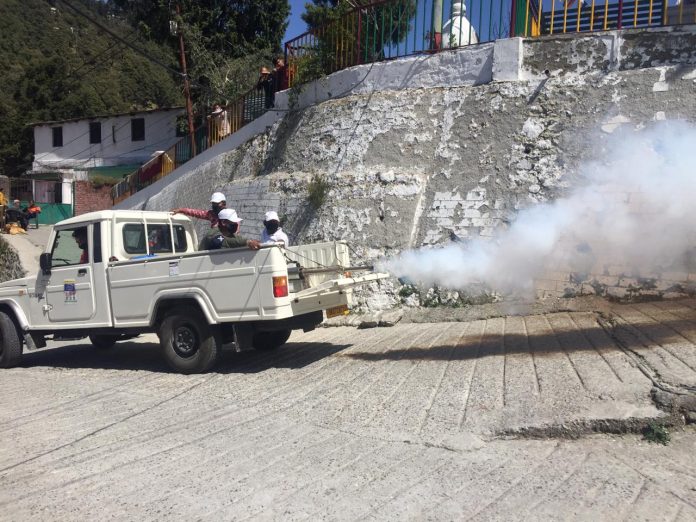 Mussoorie: Residents in the hill-station woke up with a start to the sound of a constant humming. While some thought it was a drone, others a hand-glider but the truth behind the constant buzz was a simple improvised fogging machine mounted atop a jeep.
Five young men from Mussoorie's Municipality are working around the clock and on war- footing to spray and fog various areas of the town starting from Barlowganj, Jharipani area making their way up to Landour's Cantonment too.
From 11:00 o'clock to late into the evening, they spray and fog all the residential areas throughout the entire length and breadth of the hill-station.
Sanitary Inspector, Vijendar Singh Bist tells Newspost: "Ever since the lock down began, we have sprayed 540 litres of sodium hypo chloride in Mussoorie and Landour. Along with this we have been using bleaching powder liberally on the roads, drains and garbage dumps." Further adding: "We borrowed about 10 litres of Malathion from the Dehradun Nagar Nigam and have been fogging various parts of Mussoorie."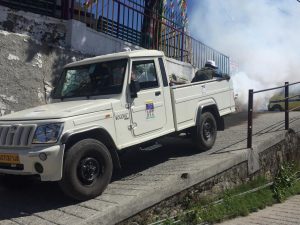 From the village of Bhatta to Makreti, Baasaghat to Bhiladu Pump house, the priority has been to sanitise and disinfect our surroundings with whatever is at hand. The Municipality and the Cantonment has been closely following government directives with door-to-door collection of garbage, cleaning blocked drains, clearing garbage dumps on a priority basis.
Vijendra Bist updates Newspost saying, "We are working on the lines of public health by spraying and using bleaching powder in public places like hospitals, local court, market places to ensure that everyone remains safe and healthy."
Having a young Chairman: a goal-oriented SDM and a pro-active Executive Officer in Landour Cantonment helps. They have come together in efforts aimed at wiping out the Corona virus. There has not been a whiff of the blurring of jurisdiction that often becomes an obstacle in fighting the good fight. It is truly heart-warming to see that no stone is being left unturned to ensure that Mussoorie remains free of this deadly virus.