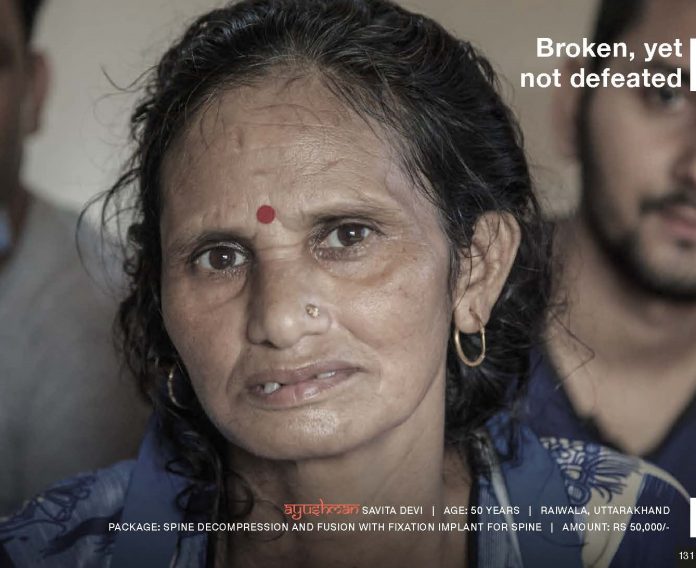 Dateline Raiwala: For fifty-year-old Savita Devi, age was just a number. The child in her would impatiently wait for the mango season when this expert tree climber, would handpick mangoes for her family. But this year, Savita lost her balance and suffered serious injuries due to the fall.
Savita was admitted at the Himalayan Institute of Medical Sciences, in Jolly Grant. After her post –examination and an MRI, doctors informed about the seriousness of her injuries, which required urgent surgery.
Since lockdown, Savita's husband, a security guard was earning half his usual salary, "We could not think of any way of arranging for the money," her daughter-in-law recalls. Just when the family had given up all hope, they learnt about Pradhan Mantri Jan Arogya Yojana scheme (AB PM-JAY) and its benefits. Savita Devi's son found out that his mother was a beneficiary, and within six days of being hospitalized, Savita was operated upon and relieved from the hospital, giving her a new lease of life.
For the likes of Preeti Negi, these miracles are a daily occurrence. An Arts graduate, Preeti turned 'Arogya Mitra' at the All India Institute of Medical Sciences (AIIMS) in Rishikesh. She never imagined that her job would bring her more than just financial independence. "I have grown so much as a person. There is something about seeing and helping people in adversity that puts all else in perspective," she says with a smile.
In the past one year alone, the young girl has helped more than two thousand people by educating them about the Pradhan Mantri Jan Arogya Yojana scheme. With her bright smile, she puts worry and anxiety at rest, informing patients about the scheme and guiding them through the process of availing the scheme.
"Most people that I come across are so desperate that they can hardly believe that there is even a way out," she says, adding, "I am so glad that I can bring hope to people who have none, with just a few words," she signs off as Preeti moves on to her next person in need.
Ayushman Bharat Pradhan Mantri Jan Arogya Yojana (AB-PMJAY) : Flagship scheme of Government of India provides a cover of up to Rs. 5 lakhs per family per year, for secondary and tertiary care hospitalization to over 10.74 Crore poor and vulnerable families (about 53 crore beneficiaries).
To avail benefits: Call #14555 (toll-free). Check if your name is enlisted. If it is, then you can go to any CSC or empanelled hospitals and get your e-card. Post this, all transactions with regard to availing benefits are cashless and paperless.